If there's one thing I've become more and more picky about as I've got older, it's the hotels we stay in. 6 years ago, my husband and I travelled the world (mainly in hostels) and as much as I loved it at the time – I love my luxury and boutique hotels now.
I just love everything about going away to somewhere so beautiful. I love it when the bedsheets are super soft, and the towels are always fresh, and the little details that make somewhere such a gorgeous escape.
And my obsession with 5* luxury hotels has overlapped into my own home too. I've almost accidentally set my standards too high now (oops) – so I've started trying to recreate all the things I love about luxury hotels at home too.
So I wanted to write a blog post about creating a 5* hotel at home, and turning your home into somewhere just as relaxing and luxurious as a top hotel. It's not the kind of thing where you'd do all these tips all at once (that would get very expensive, very quickly) but following a couple at a time could really help you overhaul a bedroom you're not happy with.
Bed Size 
In a hotel, it's all about the bedroom, so obviously this is the most important thing to mention first. My first priority was buying a bigger bed, step away from regular double beds and go for a King Size or (like we did) a Super King Size. It's only the best investment I ever made – and we sleep so much better.
Bed Sheets
The next thing is bedsheets and opting for really good quality sheets. If you've been buying bedsheets from Primark or George (and there's nothing wrong with that!) but you might not know how luxurious and how soft bed sheets can make a big difference to your sleep quality. You don't have to spend loads, there are loads of websites that offer beautiful 300 – 400 thread bed spreads and bedding sets for pretty reasonable prices.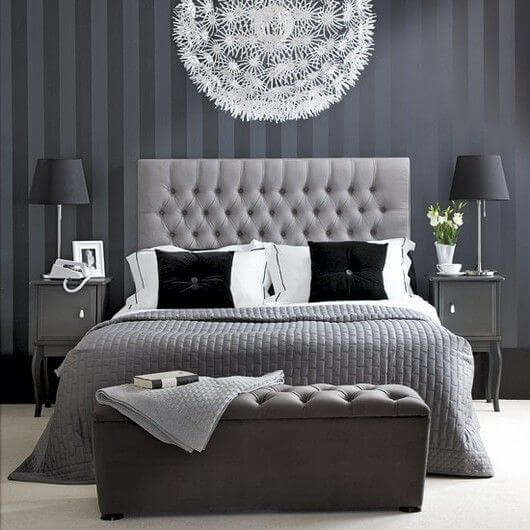 Colour Scheme
Personally, colour-wise, I would stick to lights and neutrals (or maybe grey, if you're going for a more boutique feel). It's quite uncommon to find a hotel room with coloured or patterned bedding – so staying simple and classic is likely to give you an effect most similar to a hotel suite.
The older I get the more I appreciate simplicity too, and I think the simplicity of a stunning bed set is really lovely to look at. And you might actually feel more relaxed in a neutral room, rather than a patterned or coloured room.
Cushion and pillows
The next thing in the bedroom is cushions and pillows. Most luxury hotels use feather-down pillows, so if you're looking to emulate a hotel suite experience, then these are definitely what you should opt for. If it's a better nights sleep you're after, then memory foam is also a good way to go.
And finally, a headboard! A quilted or padded on makes for a really gorgeous, luxurious feel.