One of the main reasons why I love America so much is the FOOD. All that BBQ stuff, meat, ribs, burgers, cheese – oh my gosh, I am literally drooling on my keyboard as I type.
For me, it's one of the major things cities like NYC has up on UK cities like London. In fact, ever since we landed back in London, we've been seeking out the ultimate USA-style meat restaurant – and that's how (and why) we found Red Dog Saloon.
Basically, as soon as I saw the menu – I knew we were going to love it. And the initial signs were good when first took our seats too, that this was actually going to be a great success and a genuinely American experience. First off – the staff were super friendly and efficient. This is something that you get everywhere in the States, nothing is ever too much hassle, your drink is never empty and you're never waiting more than a few minutes for service if you need it.. So yeah Red Dog Saloon just nailed it there.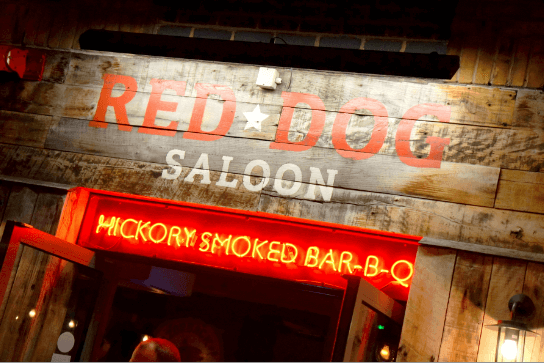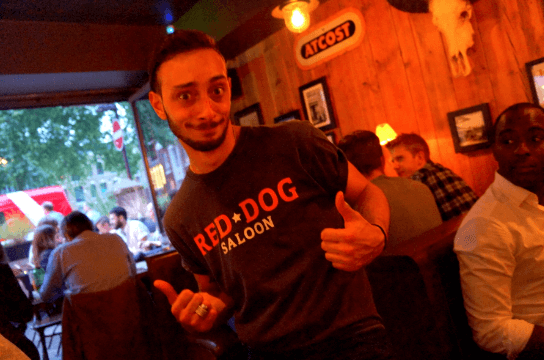 But let's talk about the most important thing. THE FOOOOOD. 
Before I start talking though… Just take a look at the photos I took. Because I think they will be enough to convince you that Red Dog Saloon is worth a visit.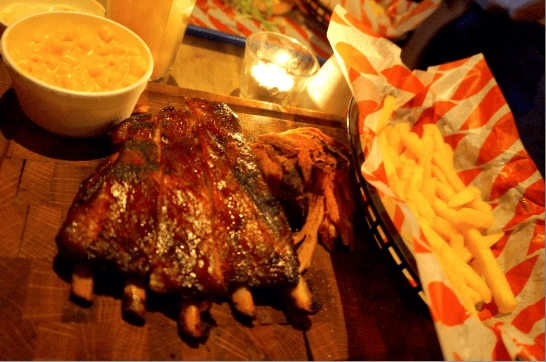 Pad took one bite of the burger above and proclaimed "This might be the best burger I've ever had" which was a momentous moment.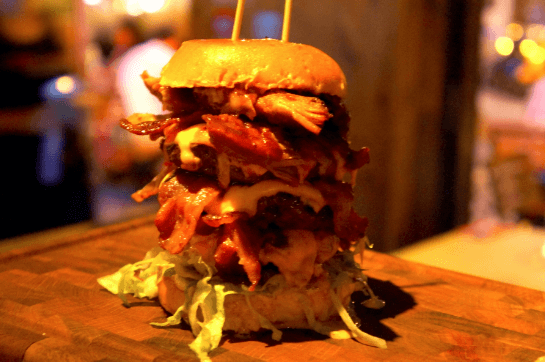 If you're the kind of person who likes a challenge – then take on their famous "Devastator" burger. Which is pictured above. Whilst neither of us opted for it (after the chicken wings for starters – I just didn't feel brave enough!) I couldn't help but take a cheeky snap of one as it was brought out of the kitchen. I mean… just look at it.
If you were just staring at the screen then for a few minutes, thinking "what does this piece of burger heaven consist of?" then let me kindly elaborate….
3 x beef patties
pulled pork
6 rashers of smoked bacon
6 slices of american cheese
Next time (and trust me, there will be a next time) this is what I'm ordering. And I will finish it like a champion!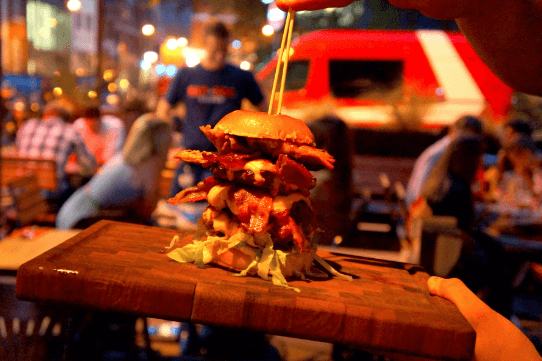 The atmosphere in Red Dog Saloon is great – and is actually one of my favourite parts of eating there. It's a lot to do with the super awesome staff, but also the buzz that surrounds the place. The atmosphere is fun and young and busy both inside and out because the restaurant actually opens up into the street – which I love.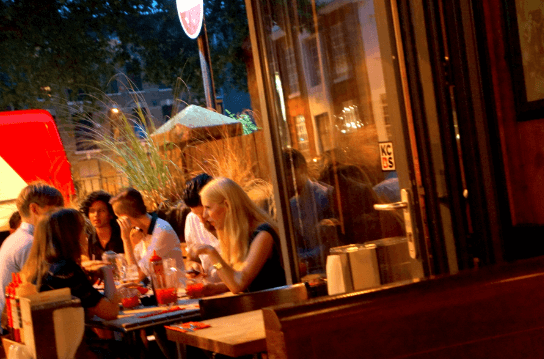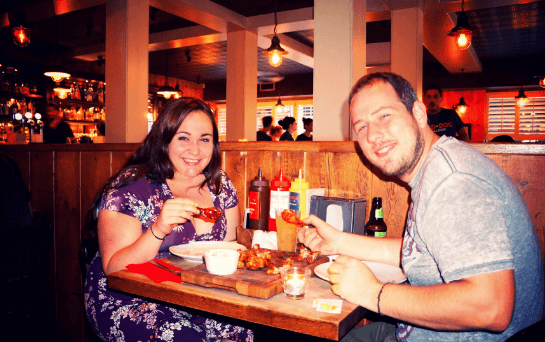 Every few minutes you'll hear a gasp of awe coming from a nearby table as a waiter plonks a Devastator burger in front of them, and then the room will erupt in laughter as everyone else looks on with curiosity as they try to attempt it. They also do a hot wing challenge – and we were lucky enough to witness a group of stags try and attempt that – which needless to say was hilarious.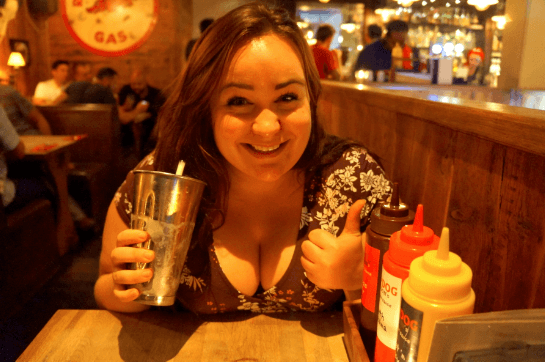 So. To conclude. Go here. Eat lots of meat. Be happy.