One of things I get asked most over email by readers and friends, is…
"What are the best restaurants in Manhattan?"
And it's a good question. Manhattan is a huge place – and if you don't go there with at least a few ideas, you fall into the trap of only eating at tourist places like TGI Fridays in Times Square. And no, that doesn't make it onto my list. Sorry!
I figured I'd put together a list of what I think are the best restaurants in Manhattan, divided up into categories and food-types.
For the best steak in Manhattan… Quality Meats
This is Pad and I's absolute favourite restaurant.  It's definitely a treat, and it's on the upper-end of the price scale…. But it's worth every penny. It's the most mouth-wateringly, delicious, amazing, drooling all over my keyboard as I write this, holy crap it's so yummy, steak.
Also – we discovered a new gem last time we went too – which is the bacon and peanut butter thingy in the appetiser section of the menu. It's was so good!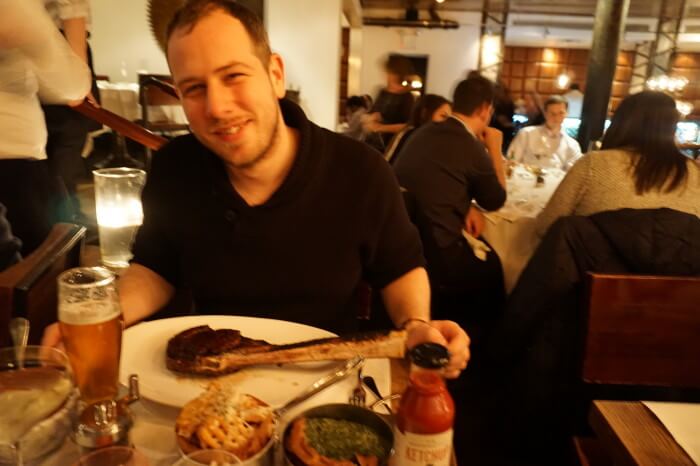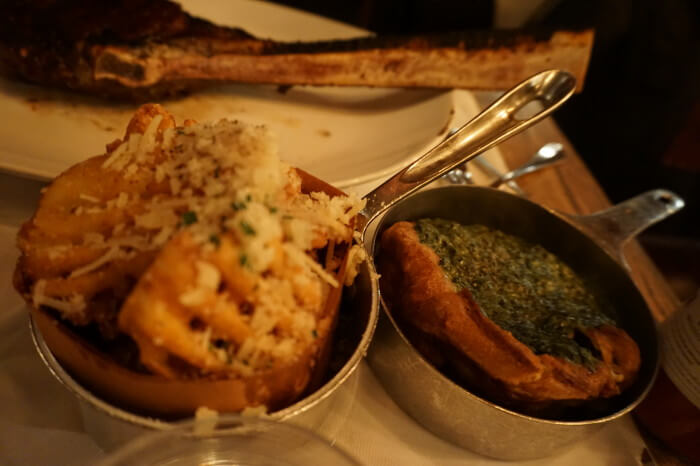 For the best deli in Manhattan…. Katz Deli
It's where When Harry Met Sally filmed their famous 'orgasm at the dining table' scene – and that's pretty much how you'll feel after tasting their sandwiches! It's pretty pricey for a sandwich – but when you see the portion sizes, you won't be complaining.
Top tip – more right down inside the restaurant to find the smallest serving queue.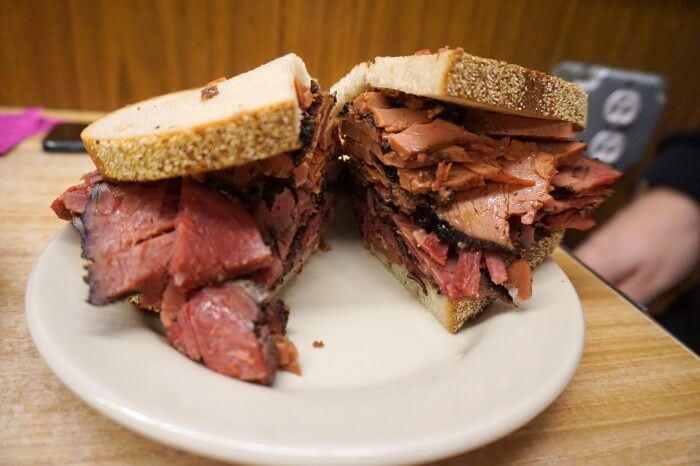 For the best pizza in Manhattan…. RubiRosa 
Recommended to us by some friends, we would never have found this incredible pizza place on our own. Tucked away downtown, this is one of the best Italian restaurants I have ever eaten at. But don't just turn up – it's small – so you'll need to book a table in advance.
We ordered a small portion of pasta to share for our appetiser (holy wow it was delicious!) and went onto share a HUGE pizza for our main course. We barely finished it, there was so much food. Seriously the most perfect pizza ever, and the best I've ever had in NYC.
Just see the photo below, to understand how over-faced we were by the size!
For the best late-night street food in Manhattan…. The Halal Guys
The wild-card on the list, if you fancy grabbing something on the way home one night – this is going to be your go-to place.
They have two stands either side of the block, and there are always massive queues around peek times. The first time you spot them, you'll be like 'REALLY? A MILE LONG QUEUE FOR A STREET STALL?" but how can that many people be wrong?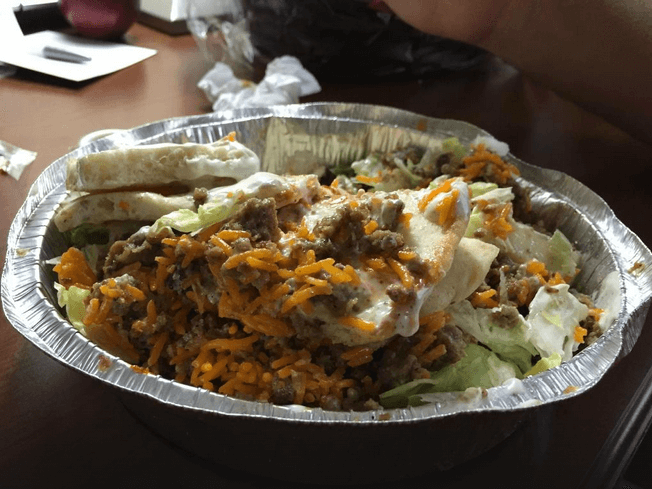 For the best Disco Fries in Manhattan…. Cosmic Diner
OK, if you didn't know, Disco Fries are crunchy french fries, with american gravy and melted cheese. Sounds like heaven right? I KNOW.
These guys do the best Disco Fries EVER. Don't order anything else – just have like 4 portions of Disco Fries. It'll be like a disco in your mouth, trust me.
Oh, and don't knock it until you've tried it. 
For the best BBQ meat in Manhattan…. Mighty Quinns
OK, if you love BBQ food, you simply have to visit Mighty Quinns. They have a menu fit for BBQ kings, and you can literally go back again and again until you've had your fill. They price by the portion (which is pretty standard for BBQ places) and you can get as much or as little as you want. They have brisket, pulled pork, sausage, chicken, wings, ribs, burnt ends – you name it.
They also have a special thing called the Brontosurous Rib – which is this massive beef rib slathered in BBQ sauce and the most magical thing you will ever see.
It's canteen style seating (sit where you want) and you won't need to a book a table. Also – if you're confused about what to order – ask the staff! They're awesome and super friendly.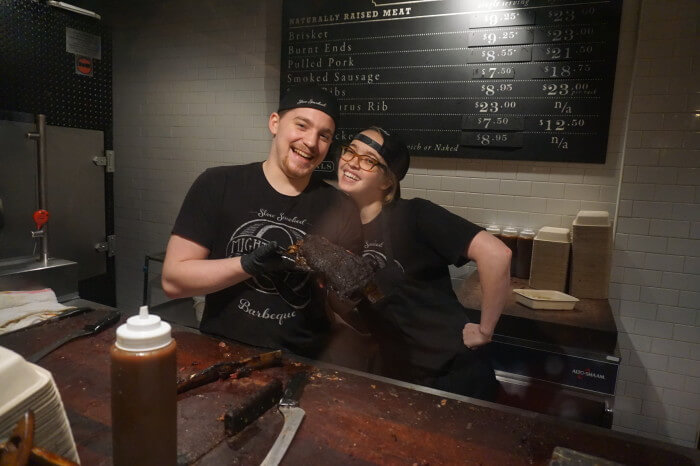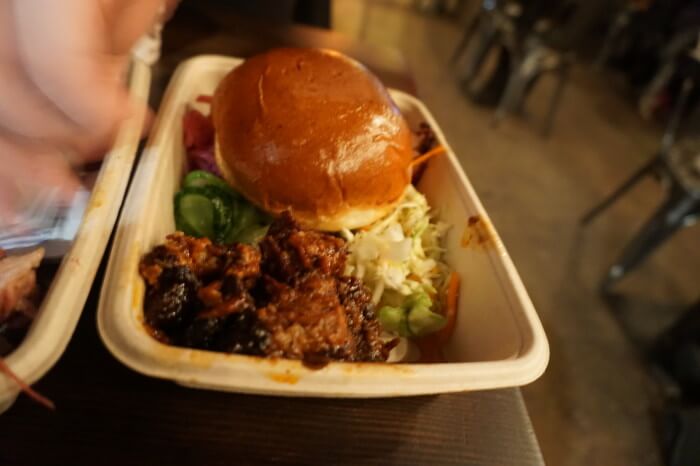 For the best Modern American in Manhattan…. Bo's Restaurant
For somewhere a bit special, with modern, delicious food – Bo's is up there with my top picks. Their food is traditional southern / american put with a modern twist – which is kind of amazing. I tried Alligator for the time here and it was great, and they have the most mouth-watering brioche bread EVER. I would go back just for that bread. Nom Nom.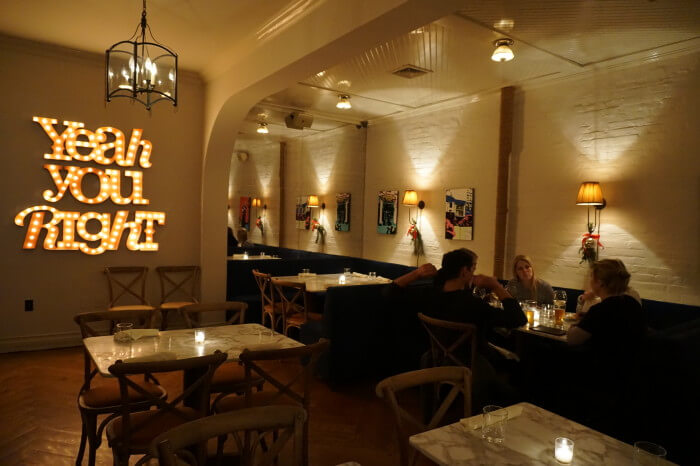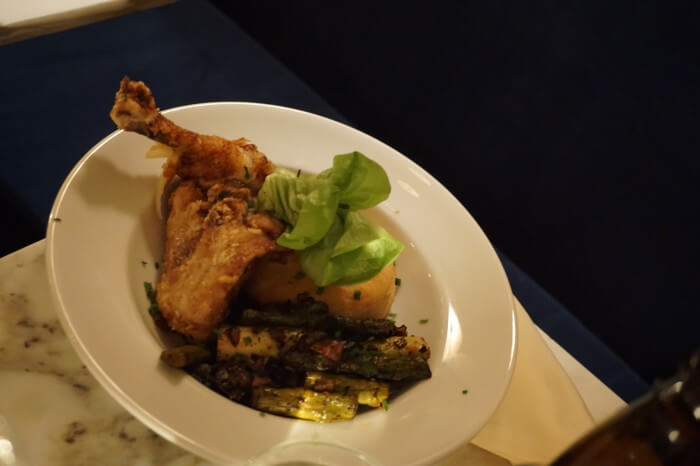 The best hotdog in Manhattan… Madison Sq Garden Stadium 
OK, so this probably isn't strictly true (I bet there's an equally awesome hotdog somewhere on the island I just haven't tried!) – but we totally raved about the hotdogs in Madison Sq Garden Stadium. They were one foot long of amazingness.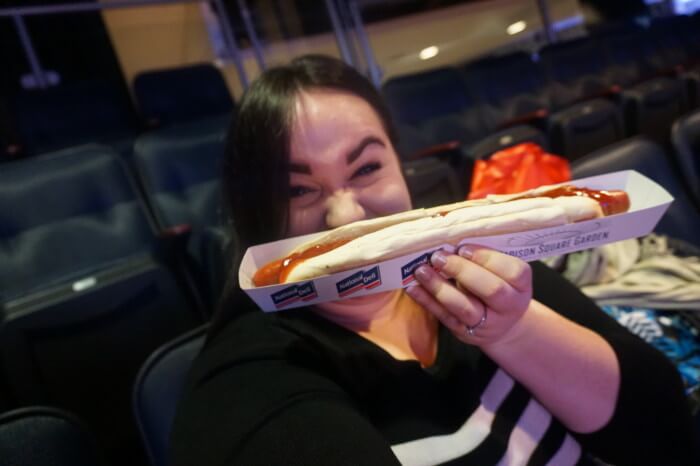 Want more advice about NYC? Check out the blog posts below!
10 things you just HAVE to do in NYC, and will regret if you don't!
Seeing NYC from the air – in a helicopter
An email I sent to a friend about NYC
The best places for thrift shopping in NYC