The trendy DUMBO neighbourhood is one of the coolest places to visit in New York, and somewhere that is often overlooked by tourists, who may feel a bit overwhelmed or pushed for time to leave Manhattan.
DUMBO Brooklyn is an acronym for 'Down Under the Manhattan Bridge Overpass' – and now you can see why they shortened it! DUMBO is a little more catchy hey?
This historic area brings together the old and new, resulting in an ultra-hip area packed with fun things to see and do. The area is best known for its charming cobblestone streets and waterfront access, as well as stunning views of the Brooklyn Bridge and Manhattan island (I feel a bit sad thinking about it, because it makes me miss NYC so much!).
Having undergone massive renovation in the last two decades, this one-time manufacturing district is now a thriving, up-and-coming art hub with classy studios, cute places to eat and designer boutiques.
DUMBO is fairly small and easy to get around on foot, as long as you can handle the cobblestones! There is plenty of public transport linking DUMBO with the rest of New York City, so whether you take the F Train or the East River Ferry, you should find it pretty easy to get here. It's also worth downloading Uber (the taxi app) if public transport isn't your thing.
So what exactly is there to do in this attractive neighbourhood? One thing is for sure, you'll find no shortage of places to eat! DUMBO offers up restaurants serving a huge range of cuisines from around the world. Whether you're looking for somewhere special for a romantic meal or a quick bite before you head off sightseeing, you'll definitely find something in DUMBO Brooklyn.
The River Cafe
This place is a great choice. Boasting gorgeous views of the New York skyline, this upmarket eatery is especially wonderful at sunset and offers attentive, high quality service. Although the food isn't cheap, it is of an excellent standard, and the menu encompasses all the most luxurious items such as foie gras and lobster. It truly is the perfect spot for a celebration, or just if you fancy living the high life! Take your camera too – to capture some photos of the amazing views on offer.
If casual dining is more your thing… You can't go to Brooklyn and not have pizza.
Juliana's Pizza
is the perfect choice, it's old-school NYC pizza at it's best and YUM. Great for families with kids, this restaurant serves delicious, familiar food in a friendly atmosphere, and you'll taste the pizza (obviously) but you'll also get a proper taste of NYC.
Try
Superfine
, which is located in a former feather factory and still sports exposed brick walls. If you visit on a Sunday you can enjoy the popular bluegrass brunch.
Or, for something quirky (and posh) and for a taste of France in the heart of NYC, try Atrium DUMBO, Brooklyn. Beautiful, airy interiors, views over the water, and a pretty garden wall make this a lovely place to have a meal. They also have a living plant wall which is kind of cool. The French inspired cuisine is just delicious, featuring classics such as escargots, New York strip and brioche doughnuts (nom nom).
Cafes And Bars
If you're not in the mood for a sit down meal, but would still like to enjoy a coffee or sip a drink while you watch the world go by, try one of the popular bars and cafes that DUMBO Brooklyn has to offer.
Almondine
is a wonderful French patisserie where all the baking is actually done on the premises and you can get a fantastic cafe au lait.
One Girl Cookies
is also a great choice if you have a sweet tooth. Cookies and whoopie pies are perfect when combined with a strong espresso or a syrup flavoured iced coffee.
If a cold beer or a glass of wine is more your thing…
Try Pedro's, one of the oldest bars in the neighbourhood. With its unique graffiti adorned exterior, its the best spot to drink a margarita and perhaps sample some Mexican food.
More Things To Do In DUMBO
DUMBO isn't just about the food and drink, there is plenty to occupy you for a couple of days. Here are a few of my top picks…
Jane's Carousel dates back to 1922 and has been beautifully restored to offer $2 rides to a new generation of kids. Brooklyn Bridge Park is another wonderful place to spend the day, with playgrounds for the kids and a cool rollerskating rink.
For lovers of classical music, Bargemusic is a great place to listen to a chamber music concert. Located on an old coffee barge, you can enjoy intimate recitals on the water.
Galapagos Art Space is another exciting venue which offers a host of entertainment in a stunning 10,000 foot performance space. Whether you love music, dance, comedy or even a circus themed cabaret, you can find it here
You can set off on your walk across the Brooklyn Bridge from DUMBO too – read my blog post (by clicking here) on how to get to the bridge and find helpful maps, etc.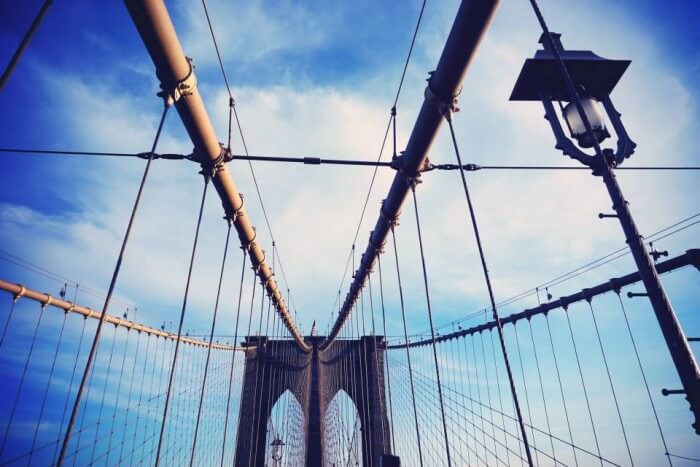 Brooklyn Bridge Park is another fun thing to do in the area, and the most obvious choice, perhaps! The park has incredible views over Manhattan and you can stroll around it, play ball, sit and have a picnic – whatever takes your fancy. If you're anything like me, you'll take a load of stupid self-timer photos.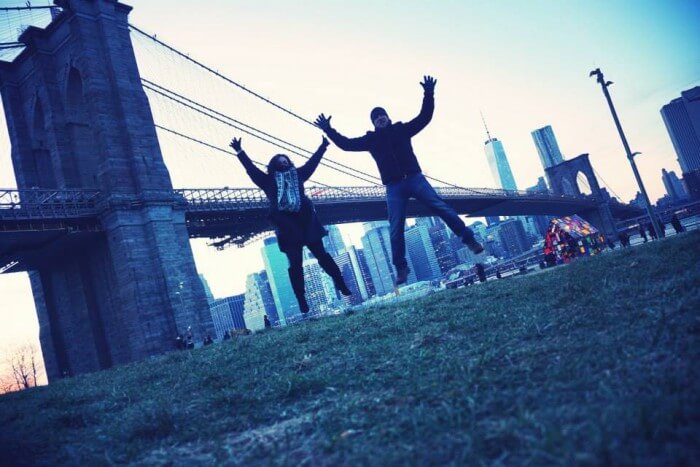 Ride a Citi bike – which is a kind of 'rent-a-bike' system they have in NYC. It's a great way to explore Brooklyn, and there are a few stations in DUMBO Brooklyn, so it's a good place to start your adventure.