One thing I always love seeing on other peoples blogs is photos of their home. Maybe because I'm super nosy, or maybe because I love interior design, they're both true! Either way, I always think a person's home says a lot about them, and I love seeing where people call home and getting inspired by how others have made their little bit of land look like home.
The apartment I share with my fiancé is one of the things I'm most proud of. It's a beautiful place, with huge windows, big white walls and quirky features. In London, finding a place like this is like gold dust – and we were lucky enough to snap our place up the moment we saw it. But it's not just the flat I'm proud of, it's how beautiful we've made it look, how much it feels like home, and all the little details that make this place ours, and no one else's.
The bedroom.
The main travel inspiration in our bedroom is the abundance of photo frames. LIKE LOADS.  I have a thing for photos, and frames – as you'll soon learn after reading this blog post. In our bedroom I have a mix of travel photos, friend photos and random quotes I love. This are all on the wall by my side of the bed, and there's nothing nicer to look at when you wake up!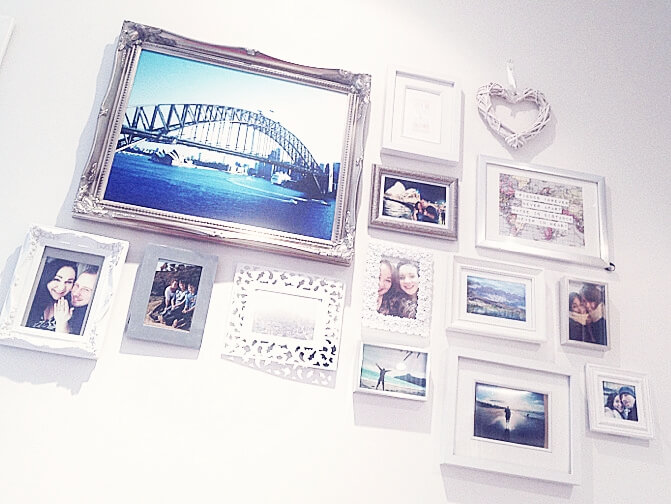 I plan on growing this wall, every time we get back from a trip, I always buy a new frame to add to the wall, whether it's the bedroom or the lounge.
I'll keep adding to it until it's full, or the wall falls down from the weight. You know, whichever.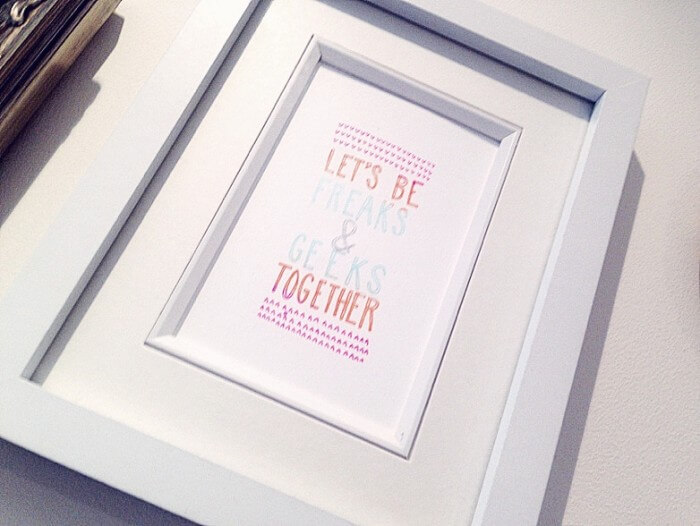 On the other side of the room we have giant print of the world, which has scratch-off bits for the places you've visited. My sister got it me for my birthday last year, and it's the perfect addition to the room. Every time I see it, it reminds me of all the places we still have to visit and all the adventures we've still got to have.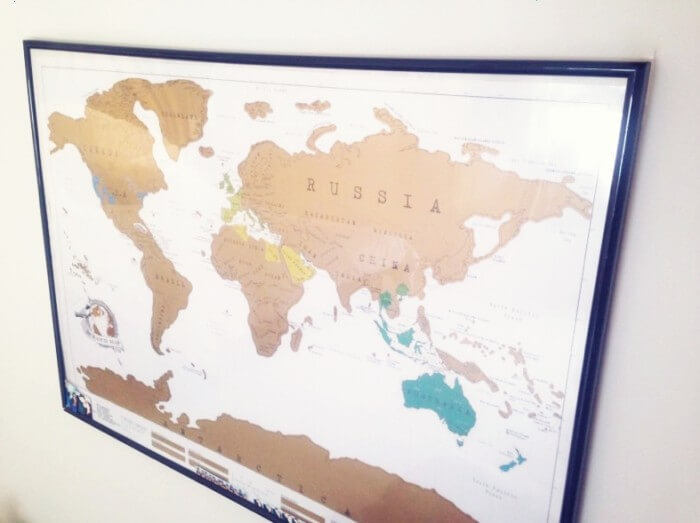 One last thing in our bedroom that was influenced from our travels, is our bed! After years of travelling and holidaying together and sleeping in king-size beds with 300 thread count sheets, we finally splashed out on recreating the same lovely hotelness at home.
Our 300 thread count bedsheets were admittedly a big splurge (student me from 5 years ago just choked on her drink, reading that future me spent £60 on bedsheets) but they're so nice, and soft and amazing. And if you're going to be sleeping somewhere every nigh, make sure it's next to someone you love – on lovely, soft, comfy, cosy bedsheets. £60 well spent, trust me.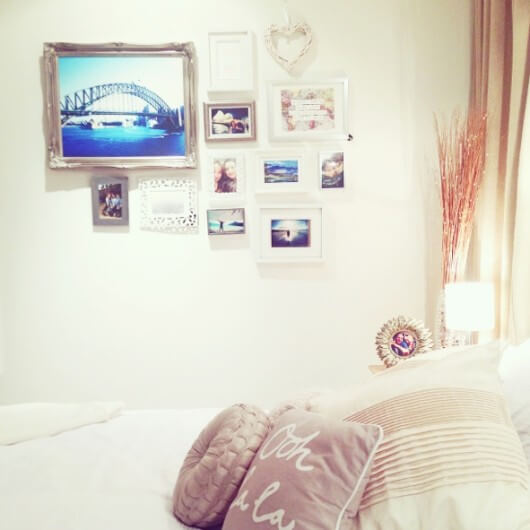 The lounge and kitchen. 
Our lounge and kitchen is open plan, and the big selling point was (of course) the MASSIVE window. In the mornings on a sunny day, the room is literally flooded with light – it's amazing (and blinding – but mostly amazing).
Pad and I have always loved living in apartments with big windows and great views – and this one is no exception. It looks right over all the rooftops, and then it's just sky sky sky. Kinda perfect.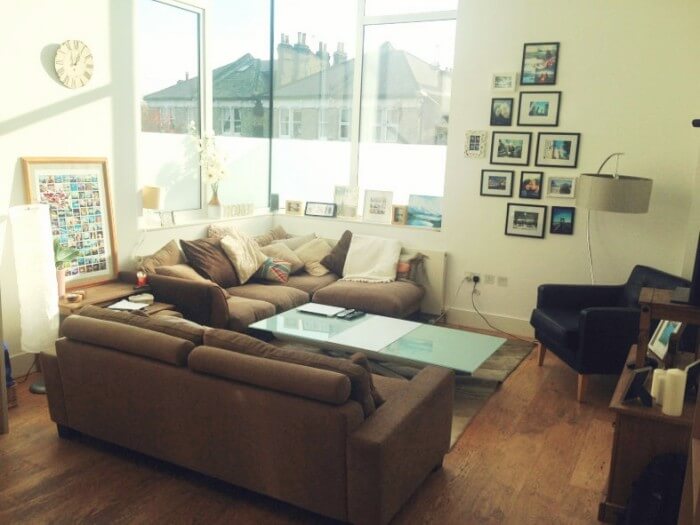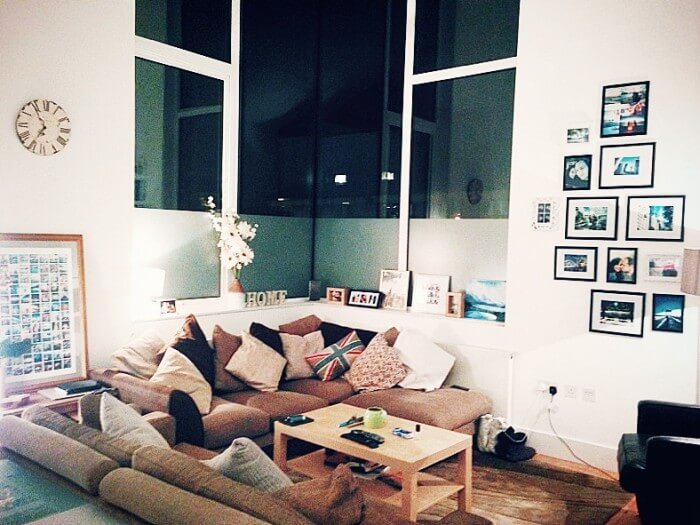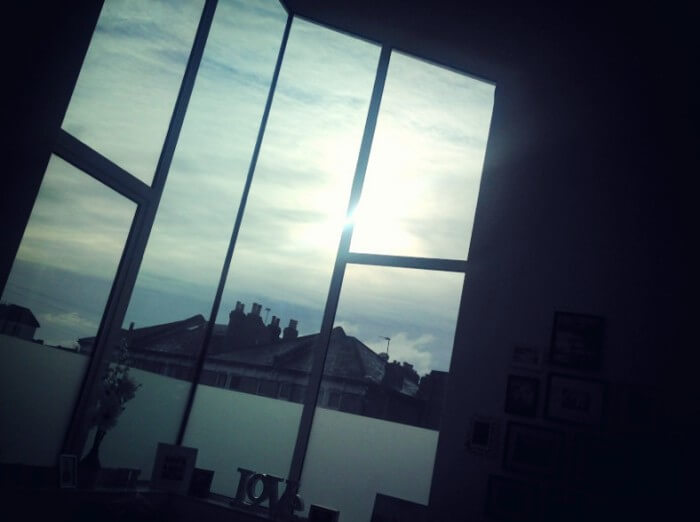 I also have a big wall of frames in the lounge too. We have a little reading corner with a big leather chair and over-hanging lamp and these photos sit right by that. I've kept most of the frames simple on this wall, with a few ornate white frames amongst the black ones to lift it a bit. Again, these are all our holiday and travelling photos – and they're such a nice reminder of all the awesome memories we've made.
I couldn't have empty white walls, so I'll always need to fill them with beautiful photos!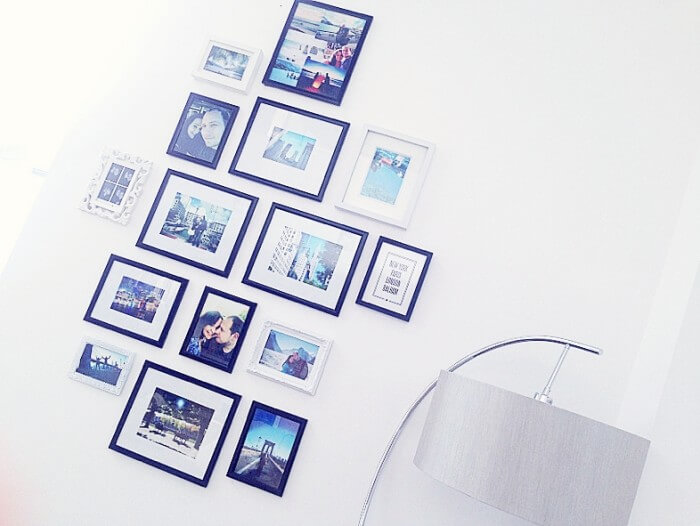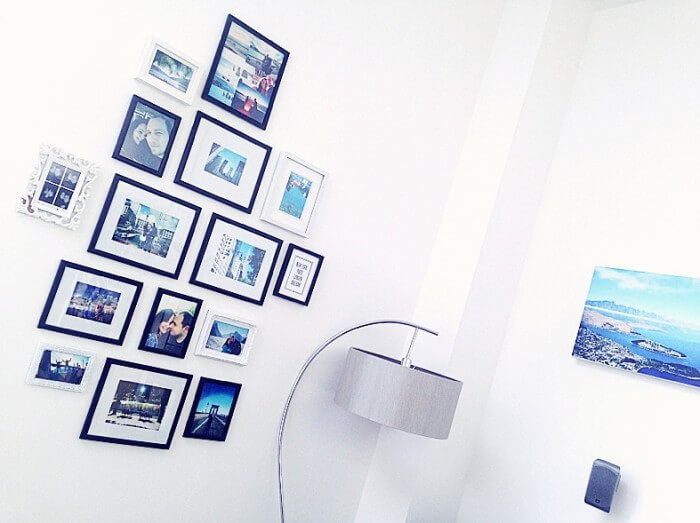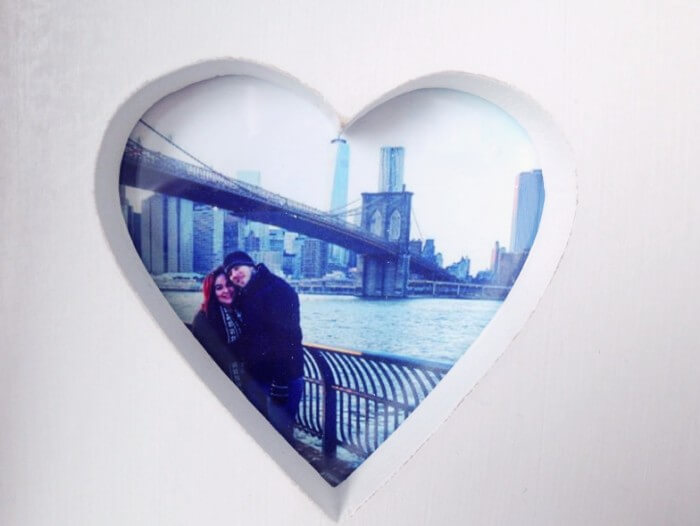 Alongside all the travel photos we have loads of little bits and bobs from travelling too.
The first thing Pad ever bought me when we started dating was a mini snow-globe, and (typically, Ellie-style) within minutes I had accidentally smashed it. We have this running joke now about snow globes, so I've started picking one up occasionally on trips (if it's at all possibly to bring it back without breaking) and Pad brings me them back from business trips.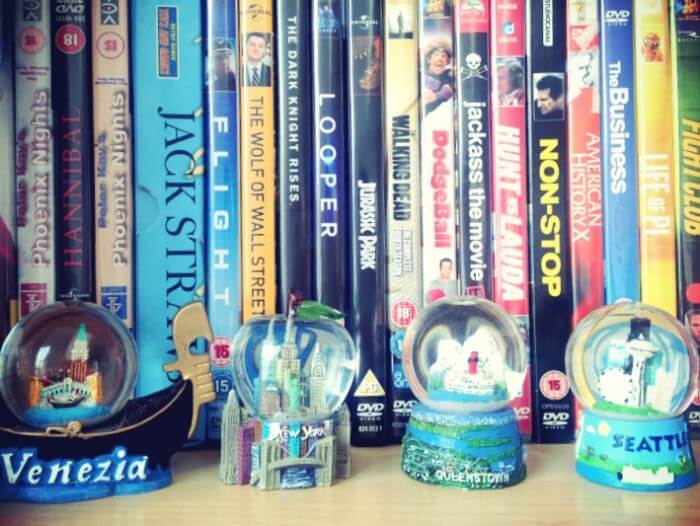 I also have a fridge covered in magnets from lots of places we've been (my mother-in-law-to-be and my nanny alike collect magnets, so maybe it's tradition now!) and there are photos on there too – you know, for all the photos that don't have a frame or a place on the wall. We also have a habits of sticking dollar bills to the fridge, whenever we have some left over from the States.
It's a good job we have a massive fridge huh?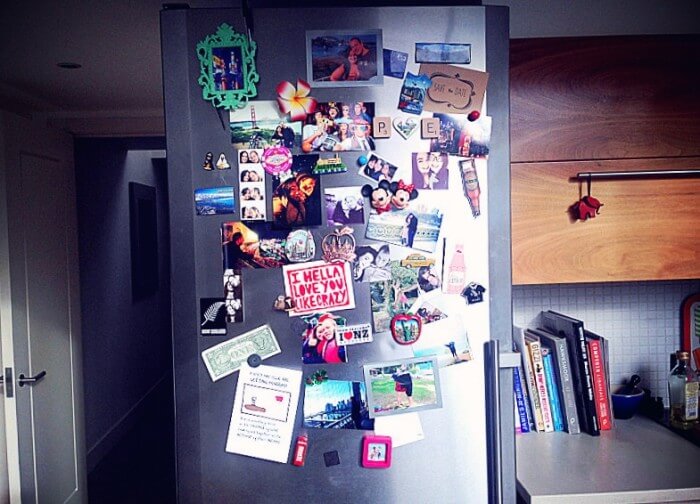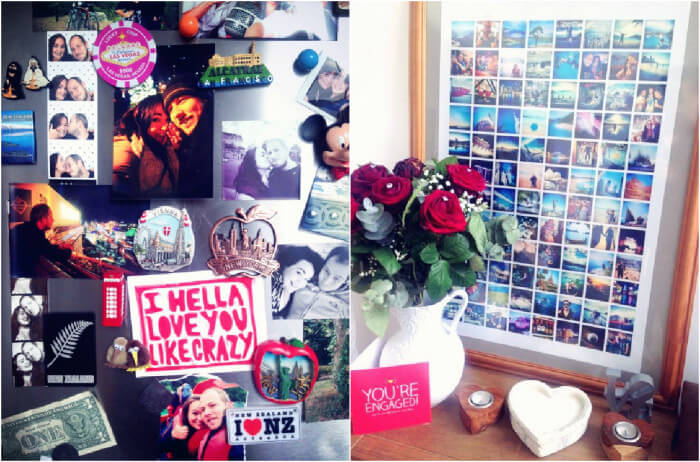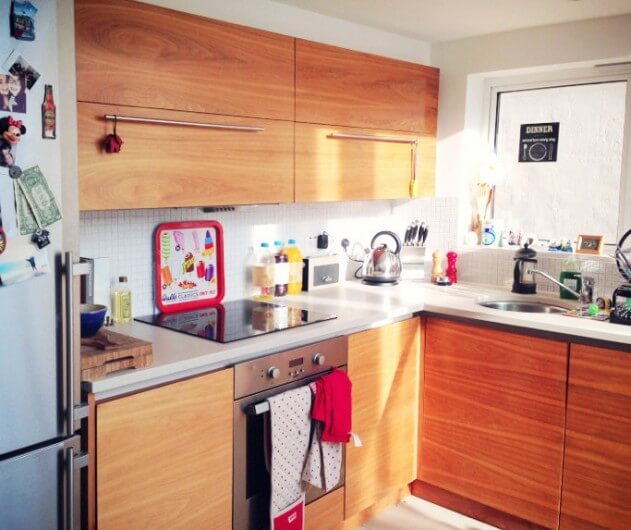 We have quite few cookbooks in the kitchen. I'm not sure what it is about travelling and food – but they seem to go hand in hand. I've never met anyone who loved travelling, who didn't love the food part just as much!
The other stuff.
Lots of lovely bits and bobs around our house I have ripped off from Pinterest. But hey, that's what it's there for right?
Like this LOVE sign. So cute. And will come in handy for our wedding too – when I'm pretty sure I can repurpose it for wedding decoration.
Oh, and our spare room, which is just as travel-orientated. The blue print on the right is a hand-drawing of NYC. I love it. It was actually wrapping paper I found in a quirky little shop down the road from us, but it was too perfect and pretty to use as wrapping paper, so I framed it instead.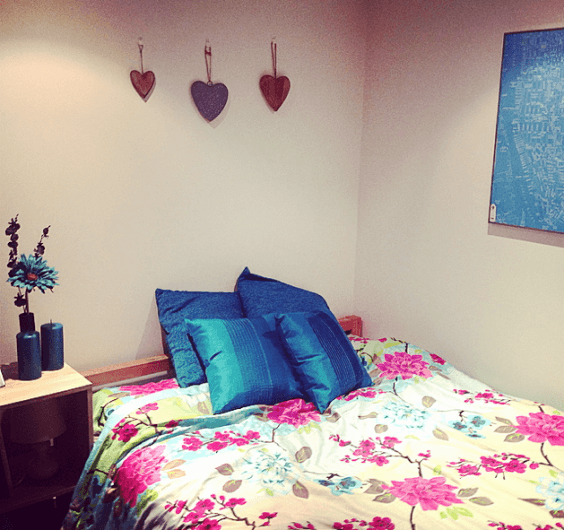 If you enjoyed my home tour post, you'll love Andi's post from Beautiful Adventures, who was who inspired me to write this 🙂 she just had a little baby boy – and his nursery is literally the most gorgeous bedroom ever.