When we were planning our move to New Zealand, the sheer amazingness of the views on offer in Queenstown, were what swung the decision for us. When you Google Image Search: Queenstown, the most common image that pops up is taken from the Gondola thing at the very top of the town. Ever since I saw that view (and ever since we arrived here) we've both been dying to go up and see the view for ourselves.
Amazing right?
We finally went up there today and it was amazing! We decided to hold off for a sunny day (we've had two in a row now…wooo!) so the views would be clear, and it was definitely worth the wait. We got up there in the mini cable cars, which were steep and scary, and then had lunch at the gorgeous restaurant at the top – which looks over all the amazing lake and mountain views. It was buffet-style, and I'd definitely recommend it to anyone visiting here, we both had Salmon Steak with Caesar Salad for mains and it was so yum. I am hungry again just talking about it. Damn it.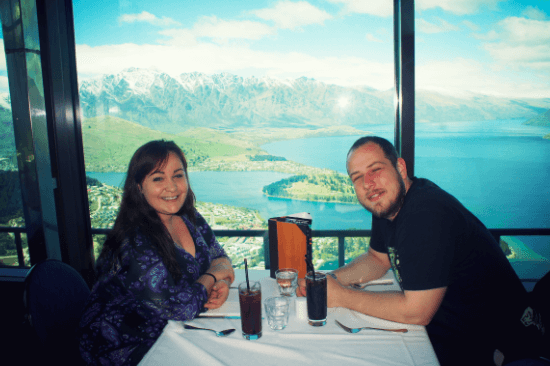 We planned to have a walk around outside afterwards (which we did) but only for around 10 minutes as the wind really picked up and neither of us took a proper coat. Serious mistake. We managed to take a few photos before both us were basically freezing alive – so we ran back to the cafe and had a drink instead. They actually closed the chair lifts today too because of the wind, which made us feel less wimpy.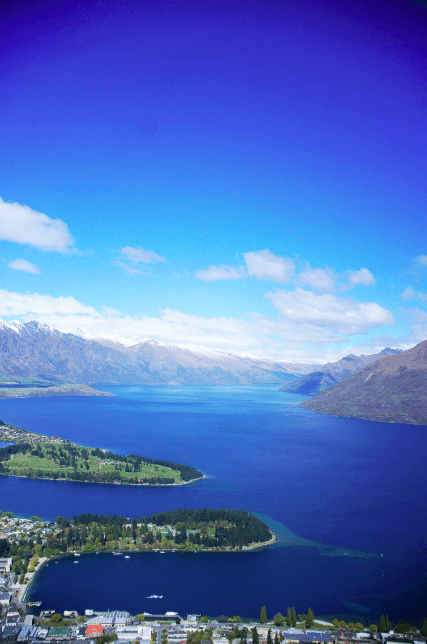 We've also been chatting a lot about where we want to be going next – and it looks like Thailand has been on both of our minds a lot. For me, it's because I've been there before and know how beautiful it is. For Pad, I think he's eager to get out and see that part of the world, because he's yet to see it all. The sunshine is quite appealing too – both of us are craving a beach I think! And maybe some sea and sunshine!
Yesterday we went on a bit of a booking spree though, and booked a few extra days in Sydney for NYE (we were originally staying for a week – we're now staying for 2) so that'll be awesome. We've got a swish hotel for the first week in the city centre, and then we're staying in the YHA on Bondi Beach (recommended by Lauren) for the second week – which will be a nice change of pace. We also booked a trip up to Wellington for the beginning of November. And I really want to book Milford Sound soon too – but it's probably best to wait until summertime for that – seen as they recently closed the entire place because of snow.