I love London. I've lived here for almost 7 years now and I'm in love.
And, funnily enough, London is also a pretty awesome place to be in love. There are so many romantic things to do in London, you'll be spoilt for choice. Here are a few of my favourites though…
Visit Greenwich Park at sunset
One of my favourite views in London and a little bit away from the centre of London – which makes it a nice little adventure to go on. It'll take about 30 mins to get to Greenwich from a central hotel, and once you're there the town has lots of shops to look around too, and loads of dining options as well. The Mexican place on the corner of the highstreet gets my personal vote.
Row your boat on Hyde Park's Serpentine
Follow in Bridget Jones' footsteps and have fun on the Serpentine, OK so she wasn't on the actual Serpentine in this clip – but you get the idea. Hey, if it's good enough for Hollywood, it's good enough for me.
Hire a private capsule on The London Eye
This is a more expensive thing to do – but if you're wanting to sweep someone off their feet, this has to be one of the most romantic things to do in London. Imagine taking in all those gorgeous views in your own capsule…! Great place to pop the question too.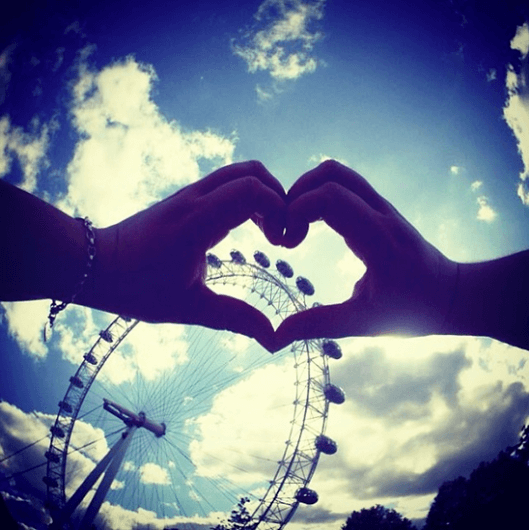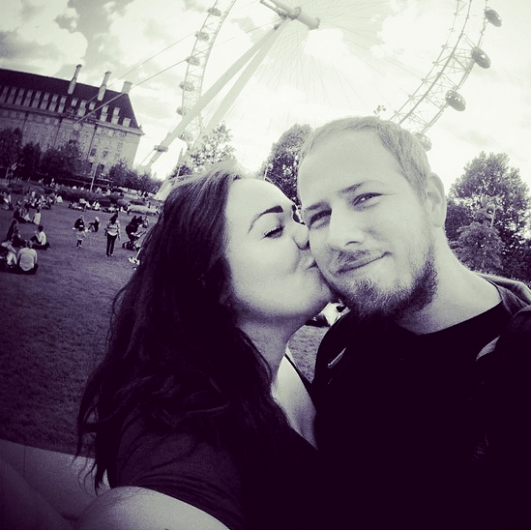 Ride the Thames Clipper
Don't fork out for an expensive private boat ride, instead get on the Thames Clipper – which during the weekdays is used by workers and commuters. At the weekend the boat tends to be pretty quiet and goes right along the river and past all the major attractions. There's even some outdoor space at the back of the boat, for those all important romantic photos.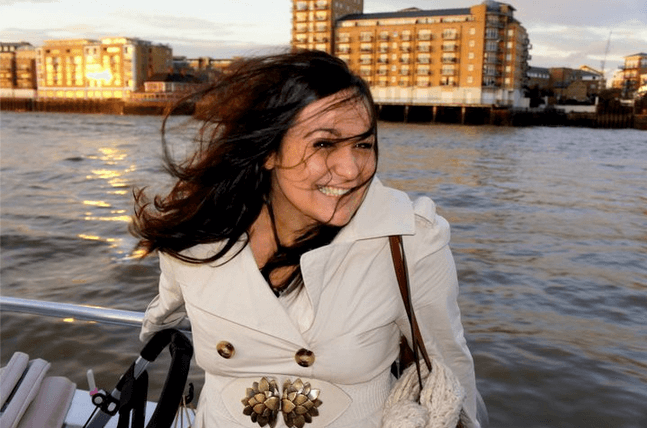 Visit Chelsea market
If you want to do something a little more 'local-inspired' then head to Chelsea Market and browse their goodies on sale. There's mainly food (and cake!) but you'll also find flowers and preserves too. Yum! Suer romantic way to spend a sunny afternoon.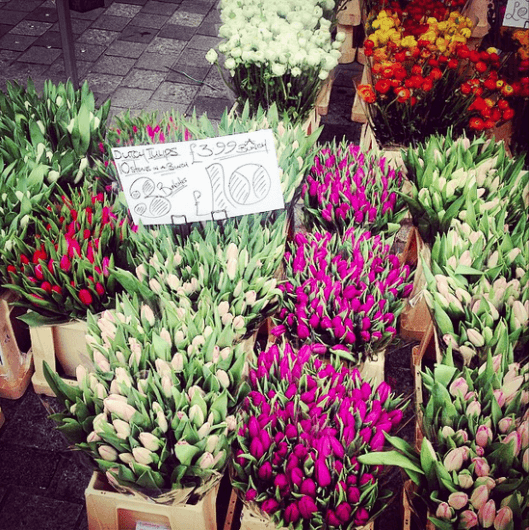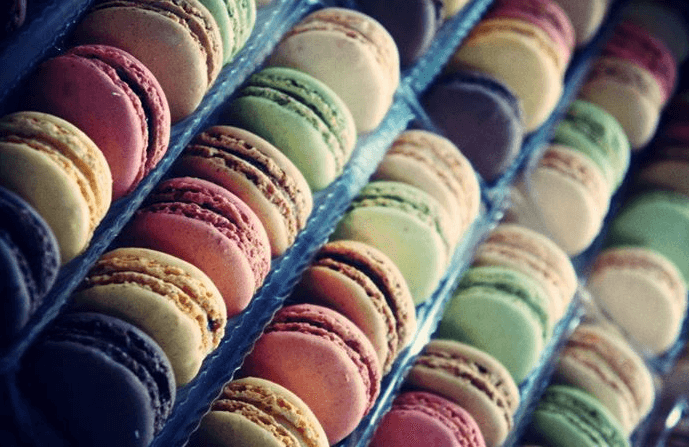 Take a picnic on Hampstead Heath
You've seen Hampstead Heath in the movie Notting Hill no doubt, so you already know it's one of the most romantic things to do in London. Located just outside of the centre, you'll be treated to sprawling grassy lawns and beautiful views of the city centre in the distance. Beautiful!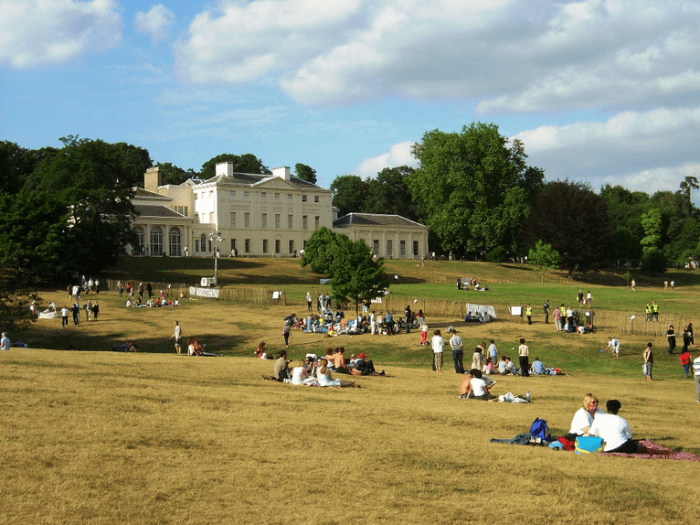 Book a private box at the theatre
The theatre is very romantic anyway -but it's even better with a private box. Everything is better with a private box. Am I right?
Share a kiss under Clapham Common Bandstand
One of my favourite spots in the city. I actually wanted to get married under this bandstand next year – but it turns out it's not properly registered and licensed. So for now, I have to settle for kisses in the sunshine.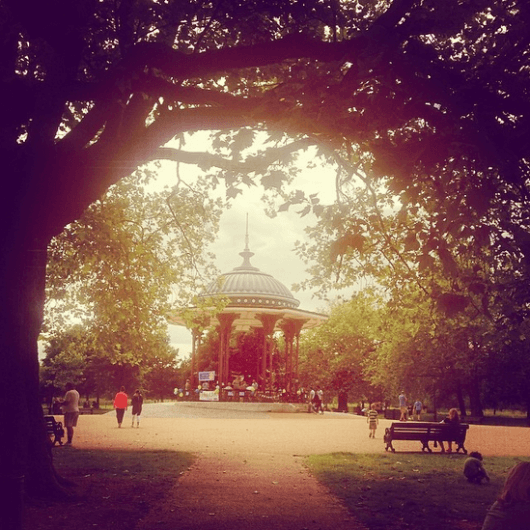 Have late night drinks at The Whistling Shop
A hidden gem in Moorgate, this deceptively big bar is located in the basement of a random building down a random street (Google the name for directions). Downstairs the stairway is covered in candles, and there is table service and unbeatable cocktails. It feels like a cosy, romantic, candlelit hideaway. Perfect for a romantic evening.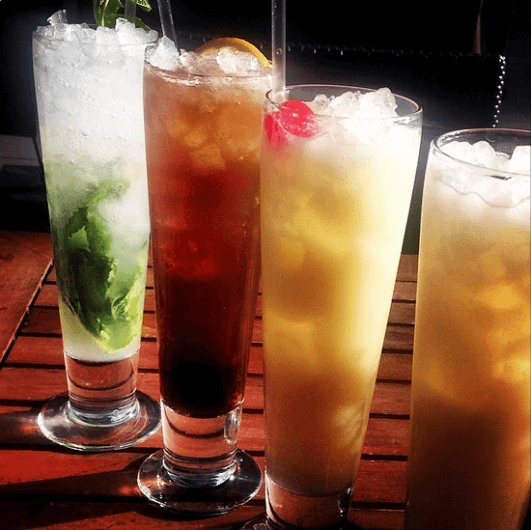 Have afternoon tea at Harrods
Afternoon tea in Harrods is super romantic. Get dressed up and treat yourselves. It's definitely an occasion and a treat – which makes it all the more romantic and perfect for date night (or day).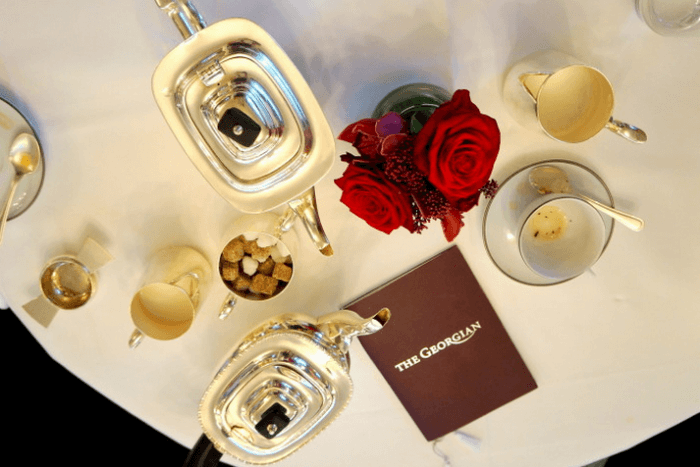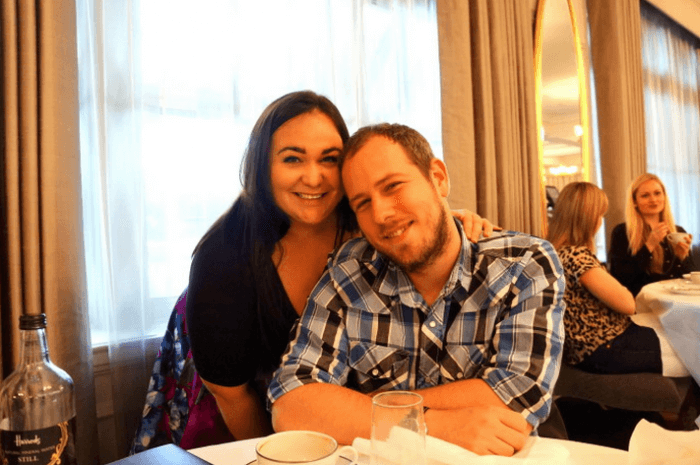 Go for cocktails at the top of The Shard (Aqua Shard)
Another one of my favourite views in the city, it's not hard to see why this place made it onto my 'romantic things to do in London' list. You can see nearly all of London's major landmarks from up here – and the bar is stylish, modern and breathtaking. No need to book if you're just going for cocktails.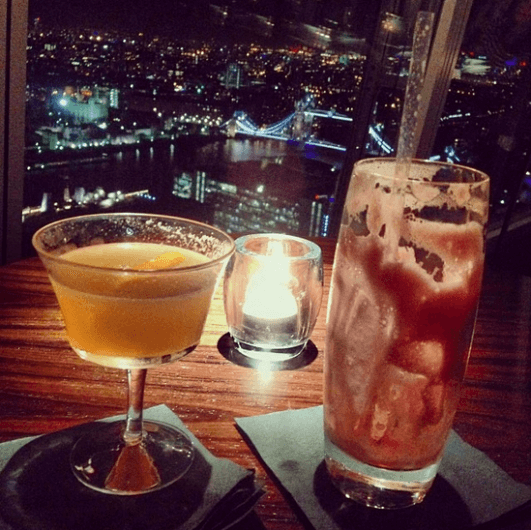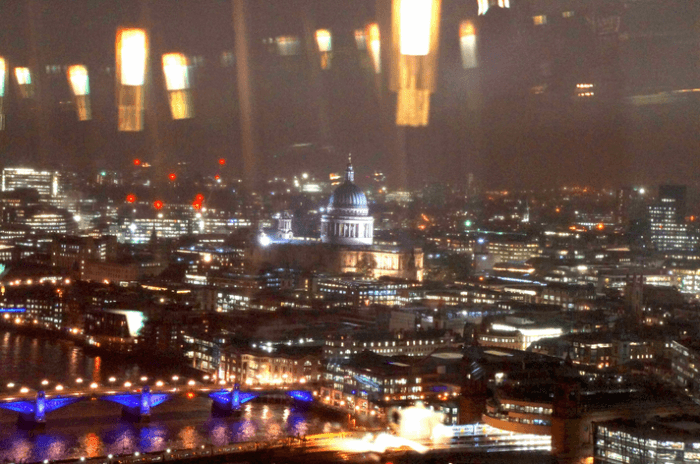 Go see the multi-coloured houses in Notting Hill
Notting Hill is the filming location for one of history's most romantic movies – so you definitely need to pay it a visit. The multi-coloured houses are simply gorgeous.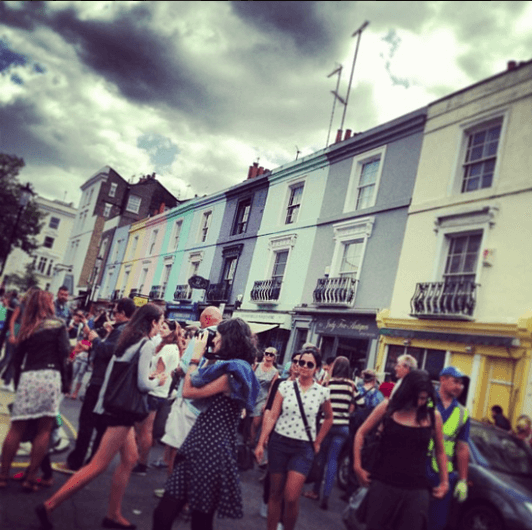 Enjoy the view from The Royal Festival hall
Hidden away on the 3rd floor of The Royal Festival hall is a bar that's open to the public. It's reasonably priced, and the views are outstanding. There's even an outdoor terrace (which is huge – so you're always guaranteed a spot) where you can watch the world go by.
Go Deer spotting in Richmond Park
Richmond Park may be a little bit further out than most would like – but it's so worth the visit. It's famous for the wild deer that roam around freely – seriously beautiful and for many people, the first (and only) time they'd see these animals in the wild. There's something beautiful and romantic about experiencing that together.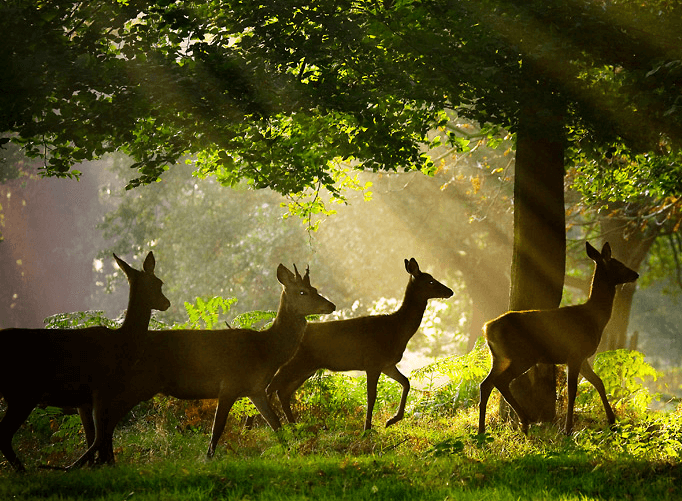 Walk along the Southbank
One of the most scenic walks in London – you'd be foolish to miss this off. There are some of the most romantic views in London along the way, especially during the evening when the city lights up.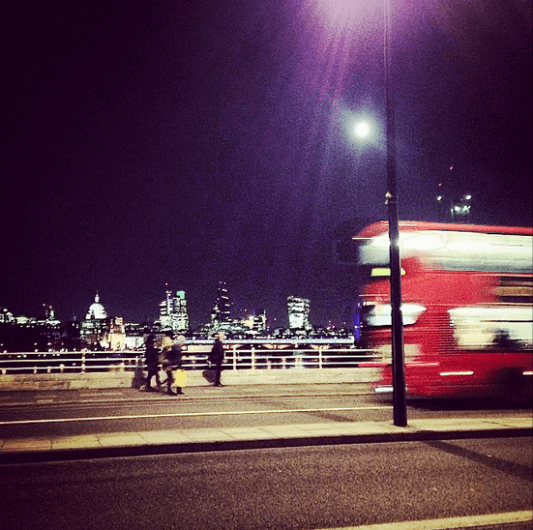 Enjoy the view on the One New Change rooftop
One New Change is a shopping centre nearby St Paul's Cathedral, but at the top of the shopping centre (just ride the lift up to the top floor) is a huge roof terrace with the most incredible view imaginable. AND FREE!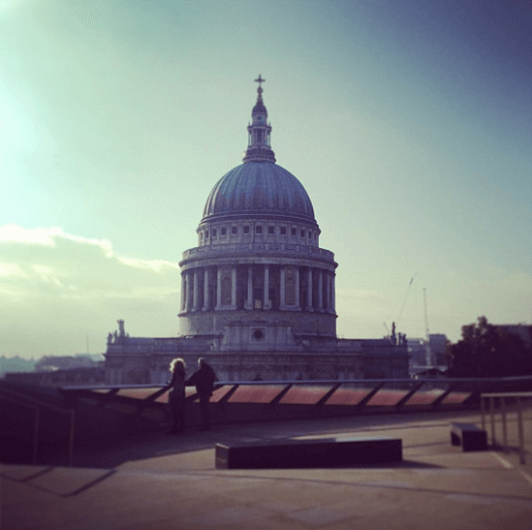 Book a romantic spa day
The below photos were taken at The Berkeley Hotel's rooftop spa. It's an open-top roof spa pool and it feels a million miles from the city below. If you want something romantic and luxurious, this has to be the thing you choose from this list. Because the spa limit the amount of entries per day (so yes, you'll need to book) you'll probably have the rooftop to yourself at various points too – perfection. And hella romantic.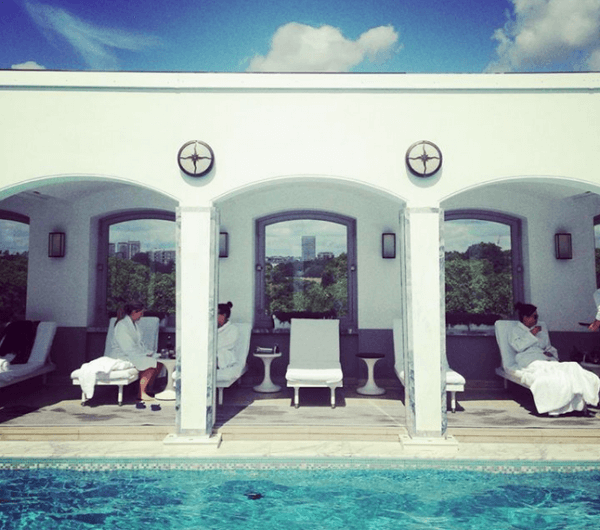 Enjoy a coffee in Soho
Because sometimes the most simple things are the nicest.
What's your favourite thing to do in the city? There are even more suggestions on this blog post, so take a look and get out and explore!
If you're booking your trip soon, I'd recommend the following websites for great deals and prices:
tripadvisor.com (hotels and reviews)
expedia.co.uk (hotels)
agoda.com (hotels and tours)
skyscanner.net (flights)