It's officially less than two weeks until we set off on the second half of our round the world adventure. The first half has been amazing, but couldn't be much more different to what we have planned for the following months if it tried.
For those first 6 months – we've been based in New Zealand (Queenstown to be precise) and having a base, and a beautiful apartment to keep all our goodies in meant we didn't need to overly worry or fuss about packing. It's not like we've been living out of our suitcases in New Zealand, we've had our own apartment, and even a spare bedroom for friends and family to sleepover in when they visited. Even when we've jetted off around Oz and NZ, we've been able to pack only what we needed – because anything we didn't need was safe back in Queenstown waiting for our return.
The next half of our journey is going to be miles different though. What makes it different?
Firstly, it's going to be non-stop, we're literally heading from one place to another and never spending more than 10 days in the same location.
Secondly, we're having to pack for all eventualities and climates – there is no base we can store our stuff in until we need it. It all has to come, all the time.
And thirdly, we only have 20kgs for the entire trip.
Which makes packing for this leg of the adventure a whole new ball game. 
I actually started packing a few days ago – a whole 2 weeks in advance. Packing doesn't excite me (although I do enjoy it in a "oooh rolling my socks" kind of way) it's more the fact I was so aware how unprepared I was for this leg of the trip. Coming out to NZ from London at the very beginning, I managed to get away with 32 kgs of luggage which all fit in my monster sized suitcase…. and 2/3 airlines didn't even charge me for it (bonus) so I really scored there. And got super lucky.
But all our flights for this second leg have strict 20kg allowances (so through some miracle) I knew I was going to have to cut down my suitcase by at least a third. Which, as any dress (and shoe) loving female will tell you – is not going to equal a smiling happy girl.
I did get lucky though, as I've actually dropped just over a stone in weight since moving to NZ, so a lot of clothes I brought with me had to be chucked simply because they were too big. So a few things have been left behind by default. Which is OK. I figure I can deal with that if they don't even fit me anymore. So that has helped a little bit with the whole process. Pad has also lost a lot of weight – and half of his shorts and trousers now hang off him, especially his jeans – which I was insistent we throw out because they were literally like 70's flares they were so big on him.
So here is my packing list of essentials.
Note: there is obviously other stuff not on this list, that is coming too – I'm no packing ninja. Even when I cut down it's still more than the average person takes. I guess I just like variety. And dresses. Lots of dresses. And shoes. And my teddy bear. 
I wasnt' kidding….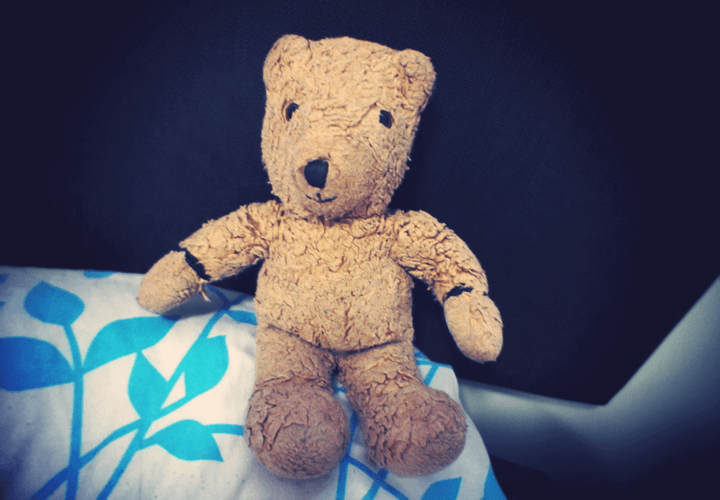 1. Sunglasses (prescription) 
I only just got my first pair of prescription sunglasses last year – and they've literally changed my life. I used to be even more blind in sunglasses than in regular light with my normal glasses – because you have the darkness added into the mix… so I pretty much avoided sunglasses full stop. Anyway – point is I'd never go anywhere now without these. If you wear glasses and you haven't yet got yourself some prescription sunglasses – do it! Especially before travelling.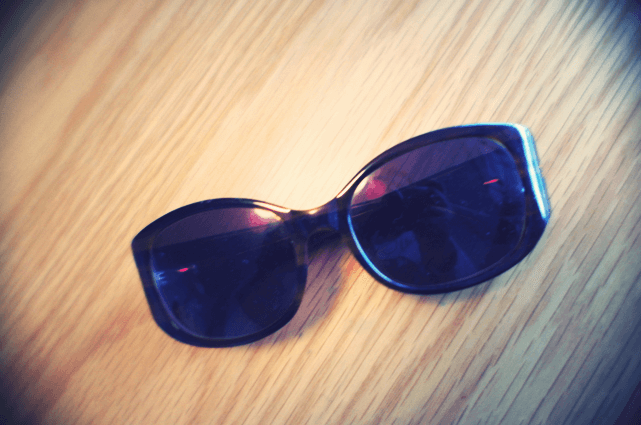 2. A decent backpack
I won't be using my backpack during the day when we're sight-seeing (I have a nice lady-like bag for then) but I do use it when we fly, as my hand luggage – because you really get your money's worth with a backpack. I can fit pretty much everything in mine, including; my kindle, laptop, headphones, tablet, passports, travel journal, water bottle, camera, hoody, neck cushion and bear. A decent backpack lasts for years, so it's totally worth the investment.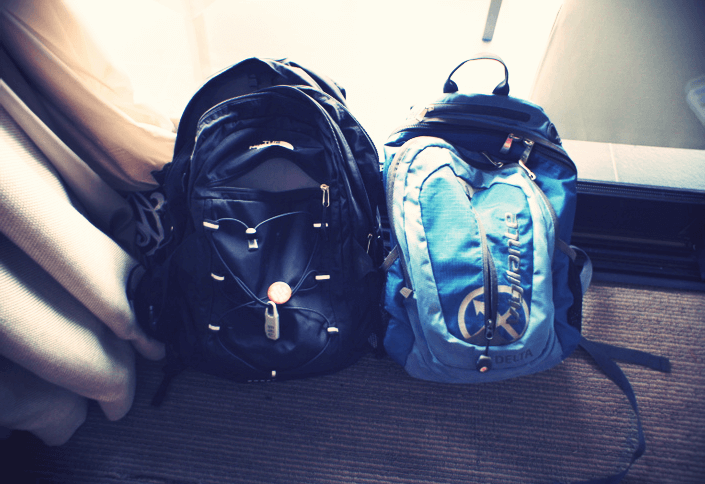 3. My Cameras
For this round the world trip I have two cameras with me. One is my (pride and joy – non-human child) compact mirrorless SLR by Sony. The other is a cheap waterproof compact I found in New Zealand. It cost about £30, and will mean I can take a few photos and videos underwater when we visit places like The Great Barrier Reef…. Fun! Not sure what the quality will be – but for £30 I can't complain – I'm sure they'll be good enough!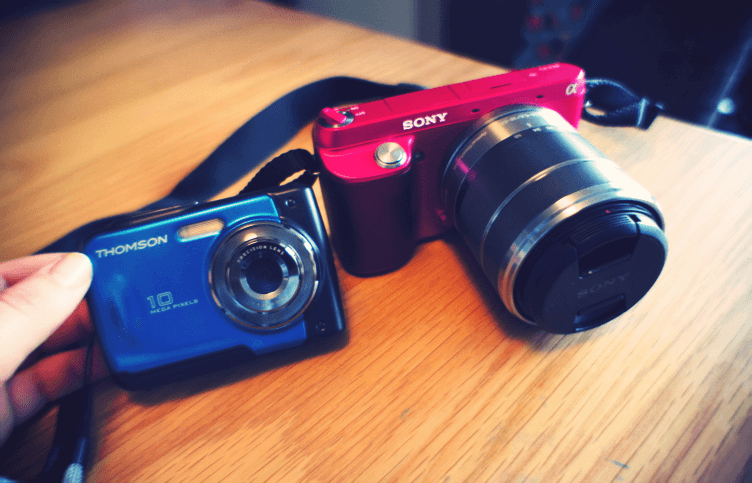 4. Plug Adapters
The things you always forget and then have to buy super expensively at the airport: thought I'd be ahead of the game for our RTW trip and stock up on adapters before leaving. We managed quite well actually – as a few of the countries we're visiting double up adapter wise.
5. Medical Stuff
I'm super clumsy, so this was a no-brainer. And to be honest – it should be even if you aren't clumsy. We have a stomach-bug kit with antibiotics, painkillers, plasters, bandages and an inhaler. Of course we have insurance and stuff too – which will keep any medical bills down (if the worst does happen) but having a quick fix in our luggage might be all we need. So it's good to have these basics on hand.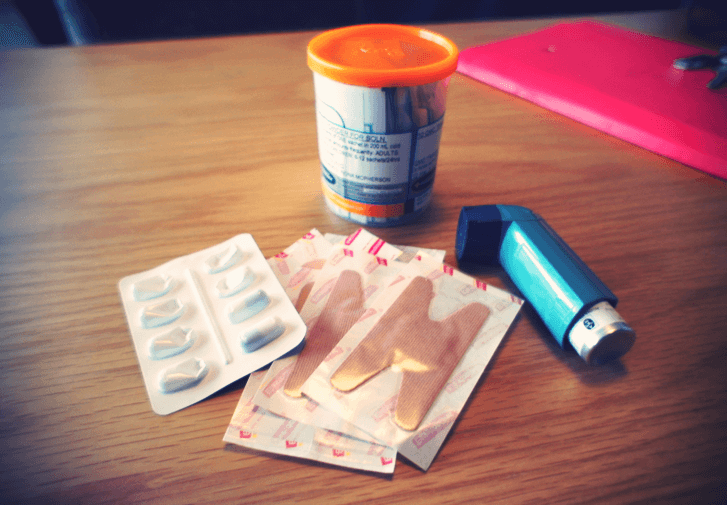 6. This Book
Because I promised someone I would take it with me. And I keep promises. Are you impressed I still have it Eve? 😉
7. A neck cushion
We have about 11 flights, and 6 coach journeys scheduled during our RTW trip – so this is beyond a necessity. If you struggle to sleep in uncomfortable places (like the afore mentioned transportation methods) then a neck cushion is quite literally going to become your new best friend. I've had this one ages because it's the perfect combination of firm, squishy and snuggly. Worth every penny I paid for it. Tens times over. If you don't like neck cushions (or can't find one you like) a good, thick hoody will often do too, because you can roll it up.
8. Trainers
A decent pair of trainers is so important – which I discovered early on in the trip when we first arrived in New Zealand. If you're planning on doing lots of hiking, walking or even adventure activities (like bungee jumping, etc) then you'll need a good, stable pairs of shoes like this.
9. Light Clothing
I've already mentioned my love of dresses…. but another important thing to remember is to pack light clothing. We're lucky because most of the countries we're visiting will be hot and humid (or at least sunny) so we're only really packing for one weather type. Basically I'm trying to pack clothes that are made of light, floaty materials – not only because they're less weight in my luggage – but also because they're quicker to dry too (when washing clothes) and they're more comfortable to wear in hot climates. Remember to pack at least one long sleeved and long-legged outfit too though – for when you're visiting temples. As anything too short or revealing will be disrespectful.
10. Magazines
I love my Kindle – but I also love magazines. I figure magazines are like the equivalent of "trashy TV" if reading a proper book is the equivalent of watching good oscar winning movie. But sometimes your brain wants the trashy stuff, and sometimes I'm not patient enough to sit down and read properly – because I just don't have the concentration on some flights. So you'll never find me without a couple of magazines.
11. Travel Socks
On my way to New Zealand 6 months ago I got the worst swollen feet ever. I've never actually experienced swollen feet before – and I'm not keen on repeating the experience. So I bought these long circulation socks. Hopefully they'll work? Fingers (and toes) are crossed.
12. Insect Repellant
I seem to be a magnet for insects and mozzies, so I've well and truly stocked up on repellant for the next leg of our trip. I've got regular repellant, DEET repellant (praise the lord, they actually sell it in NZ) and also bite soother. DEET isn't too great to have on your skin (it's a bit greasy and icky, and it takes my nail varnish off) but it works a miracle at keeping the bugs away – so it's a sacrifice I'm willing to make. We'll be in some pretty buggy places (such as Fraser Island in Oz) so this wasn't something we could skip.  
13. Lip Balm
I always seem to get dry lips after long-haul flights, so this is one of my absolute essentials. Carmex is the best I've ever come across.
14. Beach Towel
We'll be staying in a mix of accommodation on our RTW trip – and one thing you never usually get included (unless you're in a 5* resort, and sometimes not even then) is a beach towel. Sure you get bath towels, but beach towels have to be a little bigger and little more snugglier. We managed to grab a couple in a sale last month – so now we both have lovely beach towels.
15. Waterproof vanity case
If you've ever had a Ross from friends moment (where his shampoo explodes in his bag) then you'll know how important waterproof vanity cases are. Last thing you want is a sticky suitcase because something leaked or popped in there during a flight. At least this keeps the mess contained.
16. Noise Cancelling Headphones
This is more one of Pad's items, than mine. He is obsessed with these Bose headphones. But I totally get it – they are awesome. They block out all engine noise when you're on a plane, and they're so comfortable too. Definitely the best headphones either of us have ever used.
17. Travel Journal
This has been an ongoing project since new year – and I've been writing and documenting everything we've been doing since we arrived in New Zealand. It has notes, planning (for future destinations) memories, photos, maps – basically everything we need for our trip – and then everything we'll want to remember. It's probably one of my most treasured possessions now, and definitely the one thing I'd hate to loose!
18. Photos
I love taking photos when I travel with my digital camera – but I've also been collecting instant photos too – which I'll keep doing when we set of around the world. My plan is to have an instant photobooth print from every country we visit.
There are a few other things you'll want to remember – which might make the whole journey more comfortable. For example – even if you're only visiting hot countries – you'll still want a hoody or big jumper for when you're on a flight. Those cabin crew like using their AC so make sure you've got something other than the airline blanket to keep you warm. Talking of airlines, if you're jetting around the world on multiple flights – why not start collecting air miles or join a frequent flyer program. If not that, then join an air lounge club to make all that time in the airport more enjoyable instead. Another option alongside this is to join as a member of an accommodation booking website, where you can collect rewards or points every time you book with them. I wish I'd done this when we were booking our accommodation, we'd have so many free nights if I'd claimed on them!
What did you take around the world? Have I left anything important off this list?