The biggest landmark in Dubai (and I mean that literally) – it's quite literally the tallest building in the world, is the Burj Khalifa.
It's totally unmissable in the skyline.
If you did go to Dubai and somehow missed it – it's time to go to SpecSavers haha.
Towering 5 times the height of other skyscrapers around it – it's on such a huge scale you can't help but stare up at it frequently when you're nearby. It's a building I love, and the art/design-geek inside me just adores it. It's elegant and fits so beautifully into the skyline.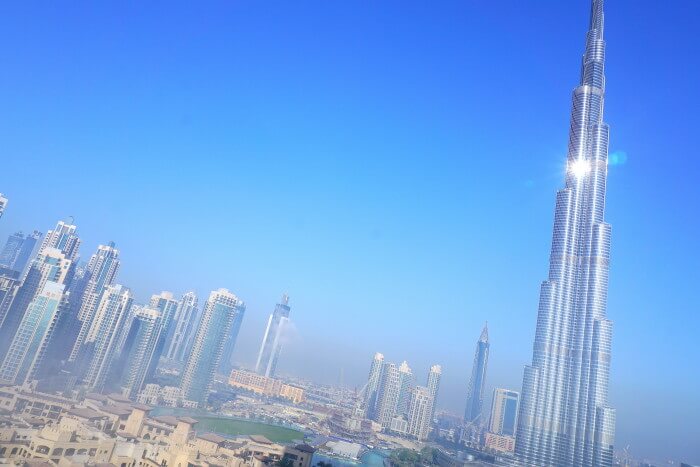 I got invited up to the At.Mosphere restaurant, located at the top of the Burj Kalifa, on my recent trip to Dubai and couldn't pass up the opportunity to see those amazing views. The Burj Khalifa Afternoon tea is one of the top luxury experiences in the city – so would pass up such an offer?
I've been to the viewing platform on previous visits, but enjoying a meal whilst overlooking the entire city – is taking it to another level of amazingness and the Burj Khalifa afternoon tea surpassed all expectations.
Our reservation was at 12.30pm, so we got to see the restaurant relatively early in the day when the views were all for us and we could explore without disturbing other diners. If you're going to head there, I'd recommend doing the same, and trying to get in before anyone else – just so you can take as many photos as you want!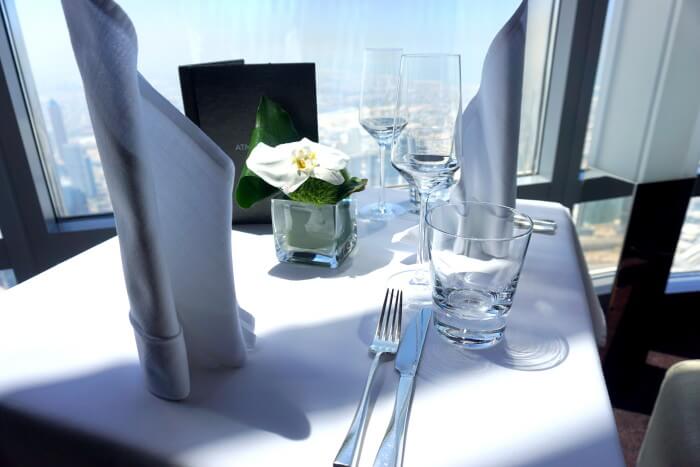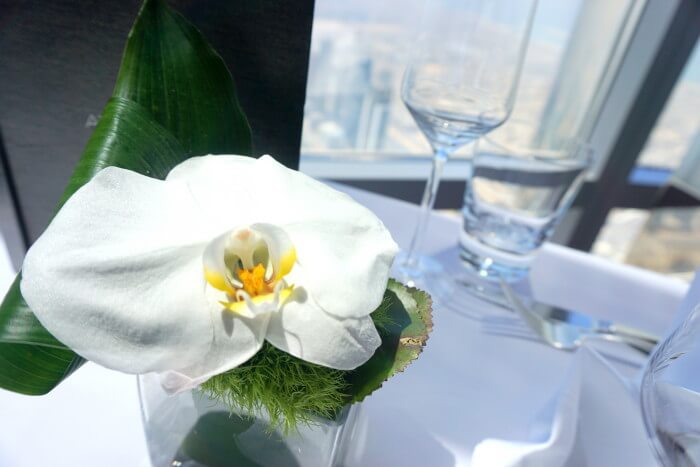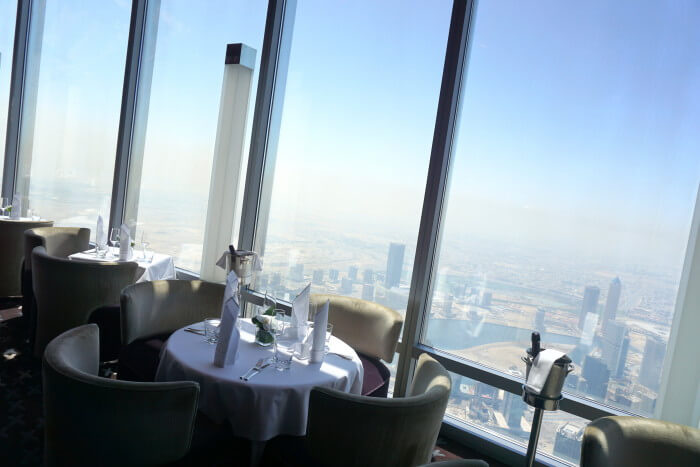 The price for the high tea actually varies depending on whether you want a window table or not – and for the extra money – I'd say just pay the extra and get the top table with the incredible view. If you're going to spoil yourself, go the whole way and make sure you have the window table.
Prices:
High tea (pp) with window table: AED580 (approx… £105, $157)
High tea (pp) with non-window table: AED530 (approx… £97, $144)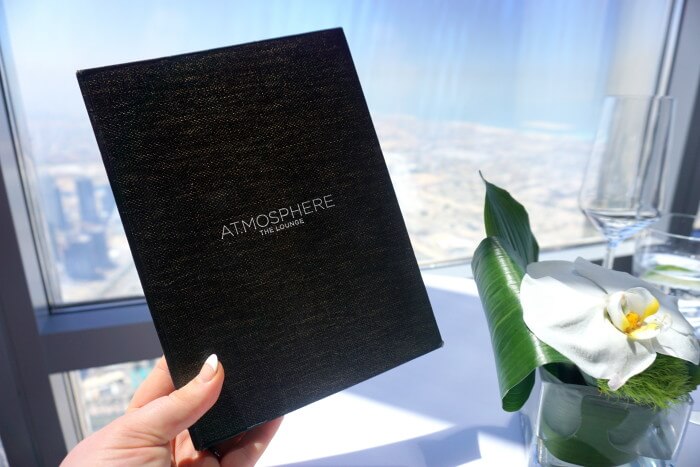 I'll get onto the food later on, but first off – let's talk about the view. For me, the best view of Dubai is from up here. Which has to be a good reason to splash out. And you get to say you ate in the world's tallest building – which is also pretty cool.
Believe it or not, the views we had whilst up there weren't even as clear as they usually are. Usually (on a clearer day) you can see for another mile or so in each direction.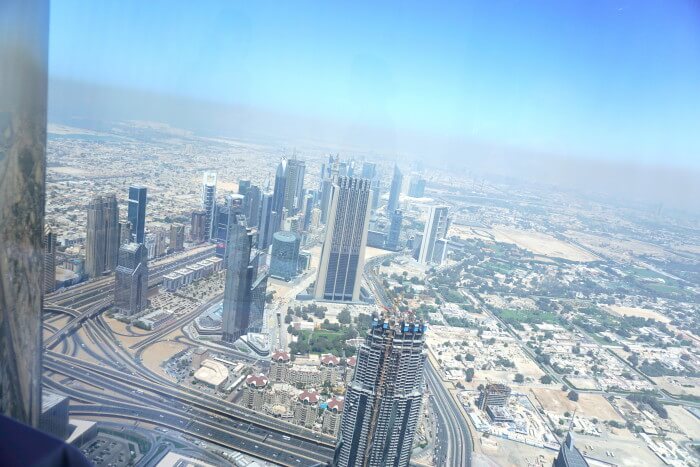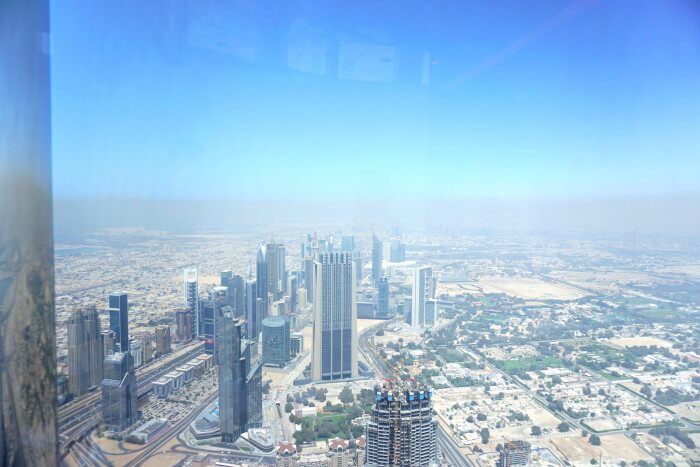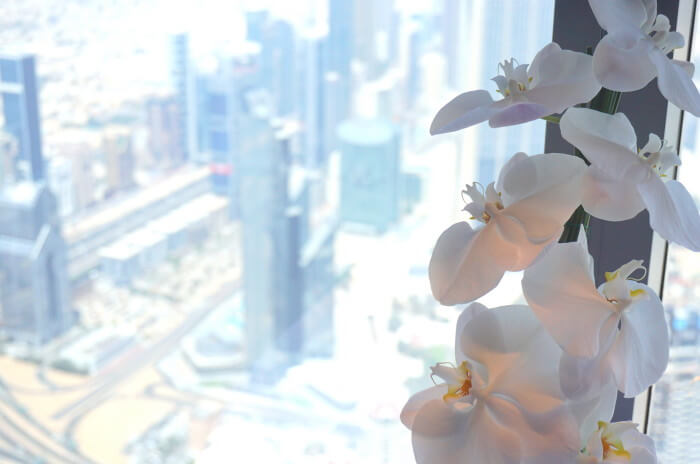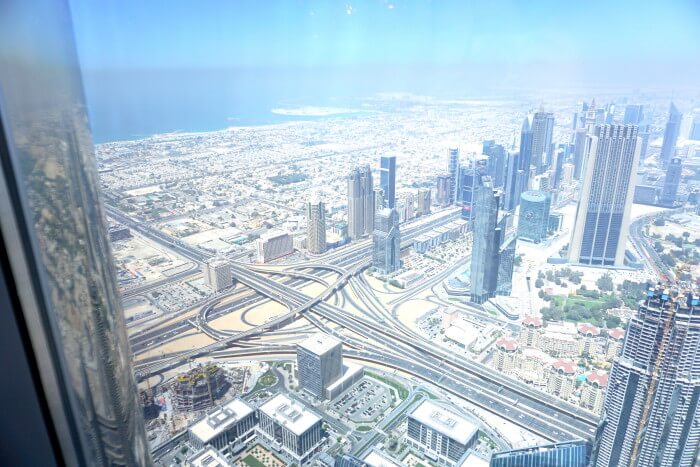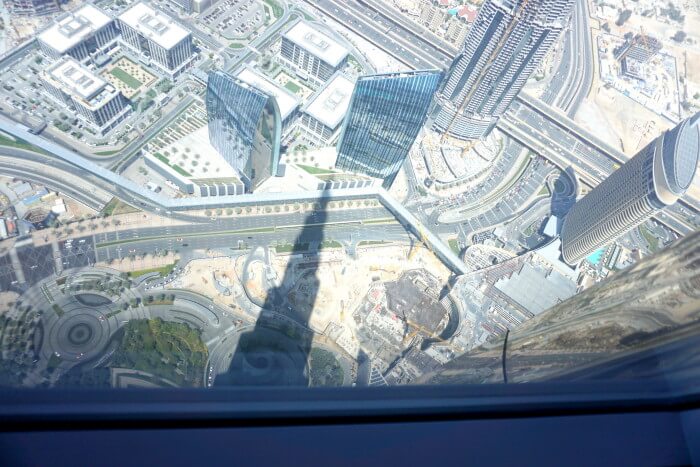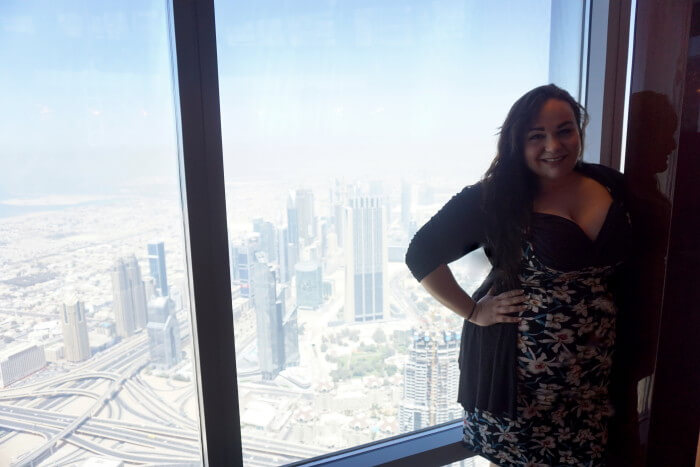 I know I just included like a millions photos of the same view – but it was so amazing, I just wanted to take as many photos as I possible could. It's the kind of view you just wouldn't get bored looking at!
Now, back to the food.
We opted for the non-alcoholic version of the high tea which included gold-infused sparkling apple juice. You can have champagne instead, but I liked the sound of drinking apple juice with speckles of gold inside, so we did that option.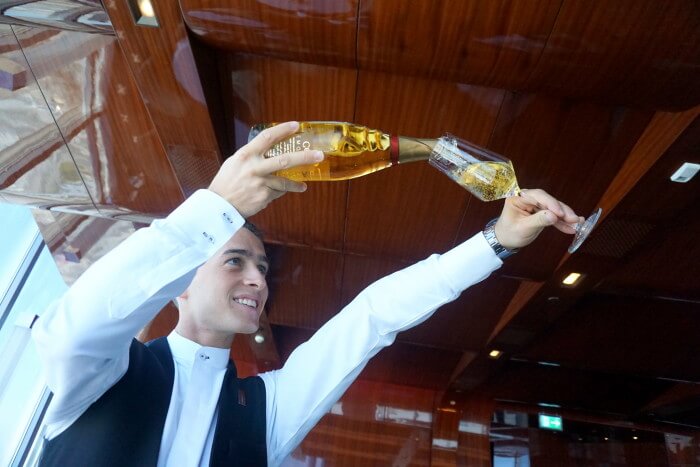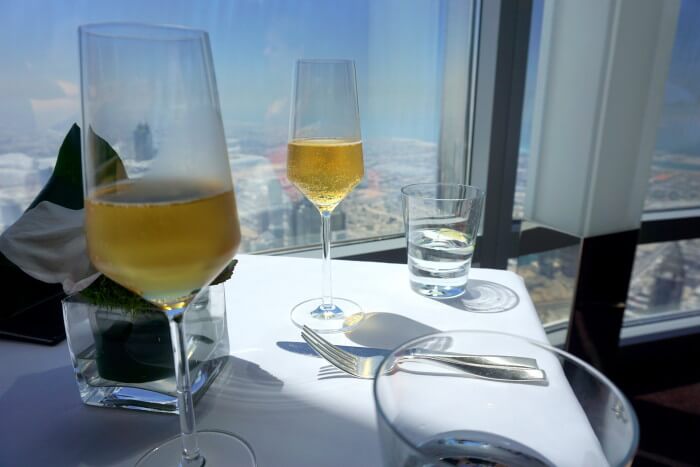 GOLD SPECKLED APPLE JUICE PEOPLE!!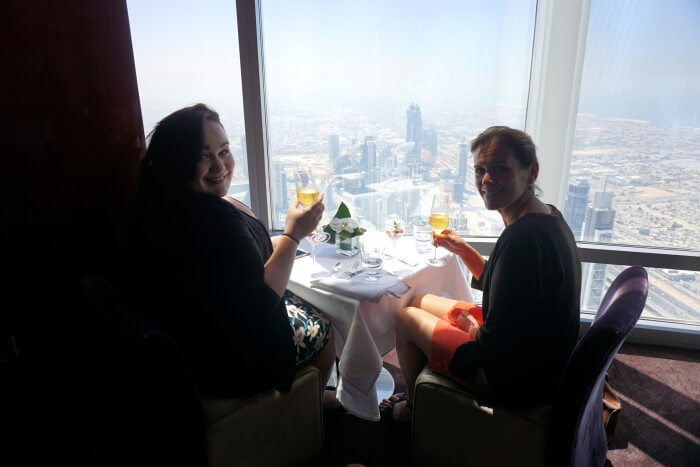 The high tea starts off with a palette cleanser of strawberries, raspberries and cream. Topped with gold flakes. Yes, you read that correctly.
It was yummy.
I probably could've just eaten that 10 times over actually.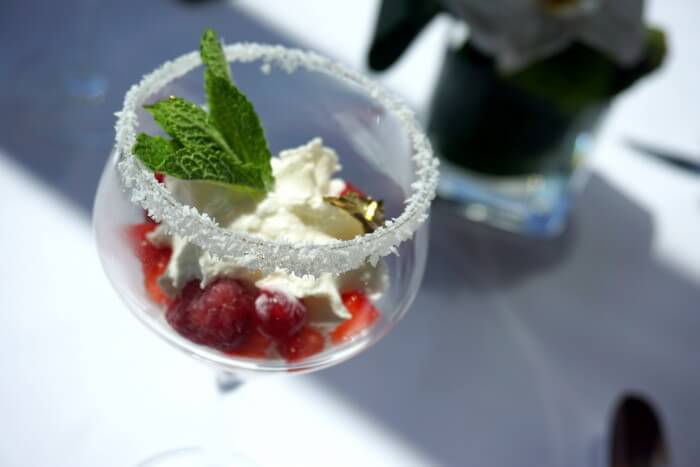 Next up is a little selection of salads and sandwiches. If you have any allergies they personalise this for you (for example, I couldn't have the lobster roll so they swapped it out for something else).
Once you're finished with your mini-selection of bits, you are served your 'main course' which is basically a mini version of a chicken roast dinner. By this time I was already quite full – so I was glad the portions were small!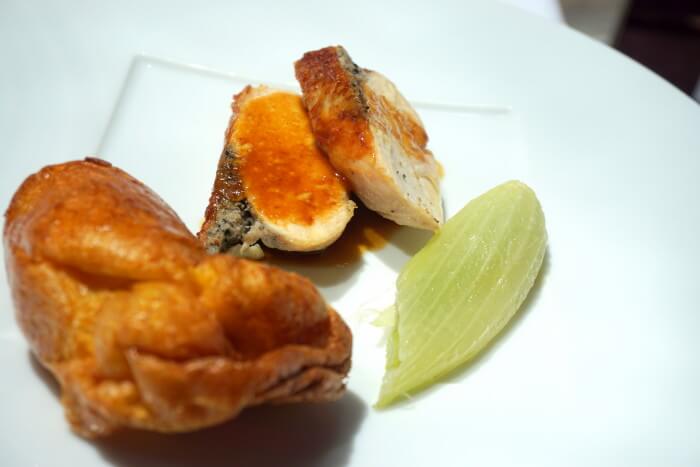 And lastly…
THE DESSERTS!!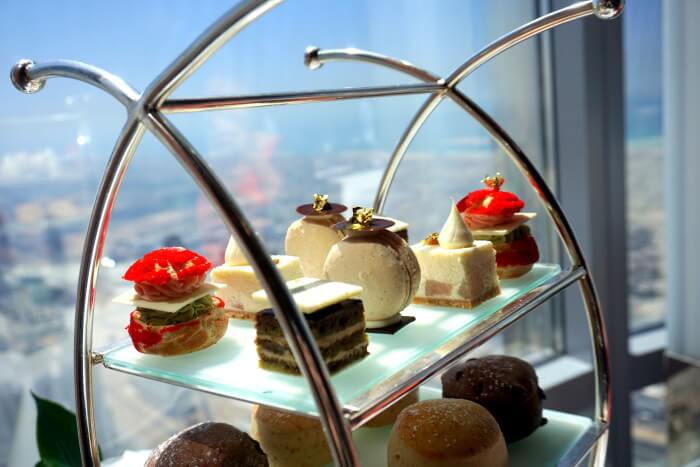 There were macaroons, red velvet profiteroles (that's a really hard word to spell by the way…. it took me 3 attempts!),  cheesecakes, chocolate sponge, plain scones and chocolate scone with loads of jam and stuff to put on them.
Oh and pastries on the bottom too – nearly forgot about those!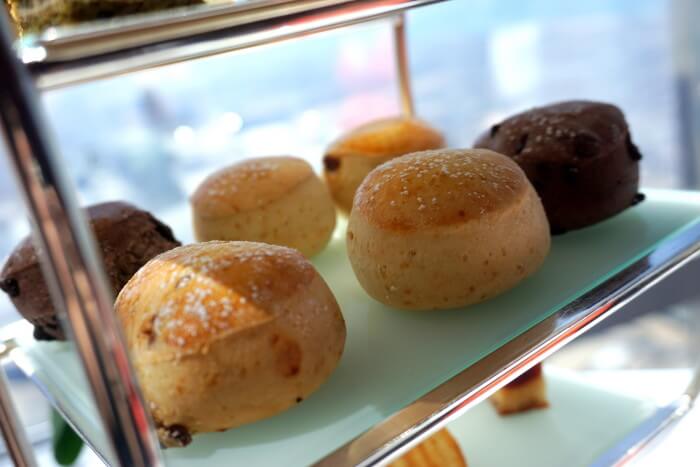 After the sweets I decided to finish off with one of their (many) cocktails, which was a mixture of coconut, lime, mint and pineapple. I've decided to try and recreate this at home one day soon- because it was so amazingly yummy.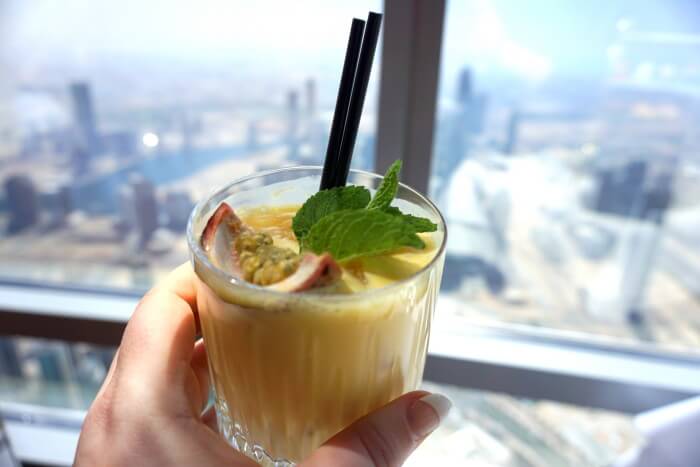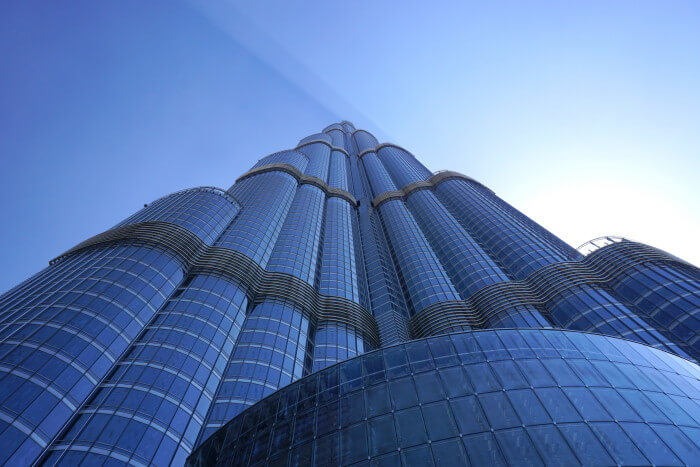 So what do you think? Do you think you'll be heading to the Burj Khalifa for afternoon tea?