Don't you think cake is awesome?
And scones too? With jam.
If you're nodding your head in agreement right now (and maybe drooling a little bit on your keyboard) – then you'll love this blog post about Harrods Afternoon Tea.
At the weekend, I went for Harrods Afternoon Tea at the newly refurbished Georgian Restaurant, which is located on the top floor of Harrods in London (one of the biggest and poshest department stores). It's been re-done by the same guy who designed the interior for The Bellagio in las vegas – and the same luxury and opulence is reflected.
Don't worry though – you don't need to be dressed up to the nines to enter. The dress code is smart casual.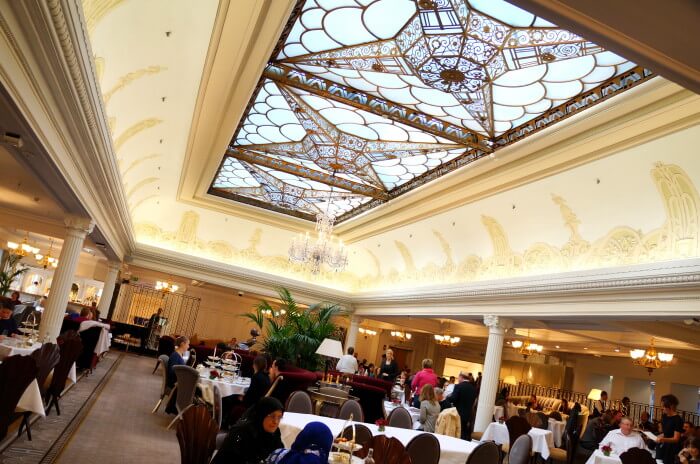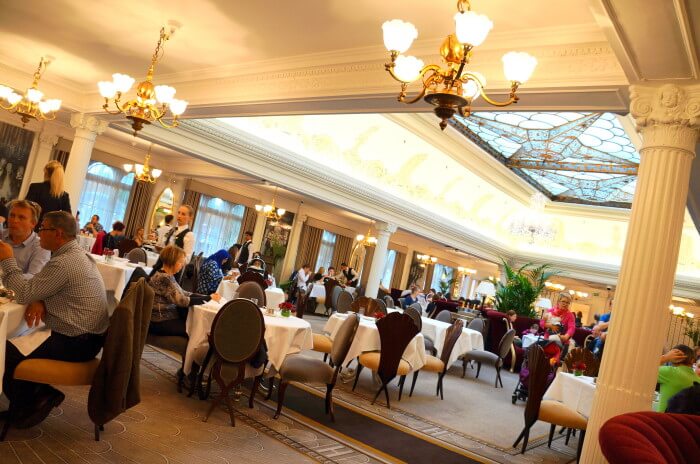 The restaurant is huge, and the tables are nicely spread out – with each one offering a different kind of seat or chair design. There are some lovely big, stylish arm chairs, some huge chaise lounge type sofas, curved booths, and traditional cushioned dining chairs. I like that they varied the tables and chairs – I think it adds character and gives the place a really special atmosphere.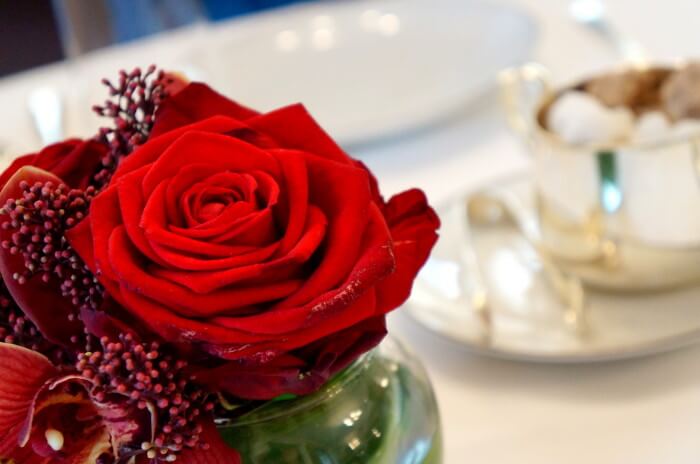 There are also lovely views over the local area, of chimneys and rooftops. I love that kind of view (reminds me of Mary Poppins) so I had to take a few snaps of that before we left!
The room is bright and airy, mostly because of the incredible sky-light in the centre of the room, which dates back to the 1920s. If you love history and feeling like you're stepping back in time – a Harrods afternoon tea might the perfect thing for you.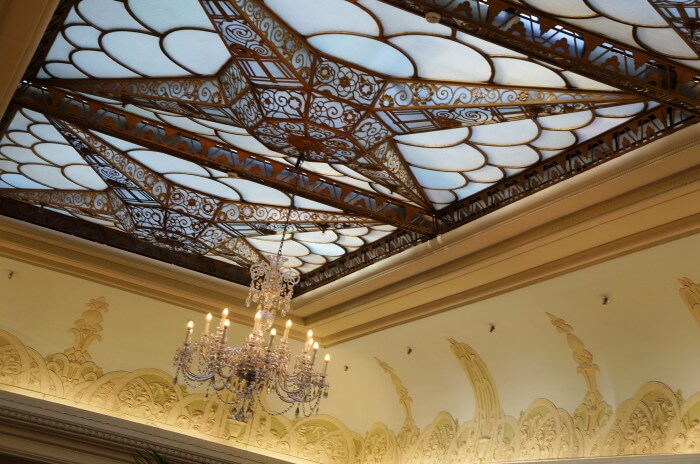 But enough about the room (as beautiful as it was!) we went there for the food! The afternoon tea is £39.99 per person and that includes unlimited tea, and a traditional afternoon tea platter, which consisted of perfectly formed sandwiches, fresh baked scones, a selection of beautiful cakes, and a special Harrods Trifle (which was beyond yummy).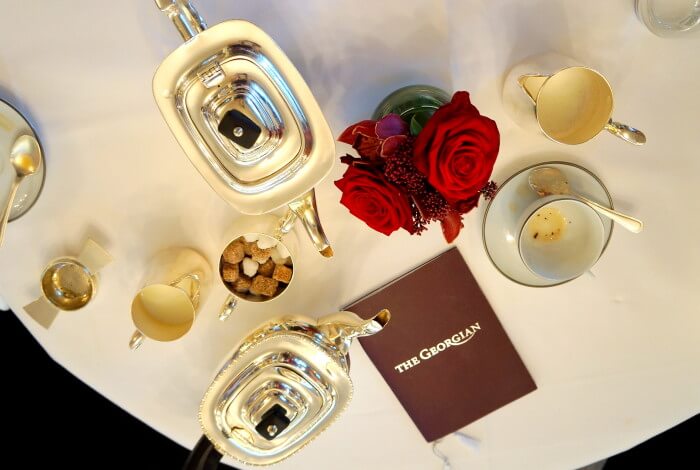 One thing I liked (and where the Harrods tea differed from other afternoon teas I done, such as The Shard) was the generosity of the place. The portions are sizeable anyhow, but if you're not filling up – you can always ask for more.
We had two lots of sandwiches, two lots of scones and the cakes (which we ended up taking home in a very posh doggy-bag). All these second portions were offered to us too – it wasn't something we had to ask for. The waiter simply noticed we were running low, and asked if we wanted a stock up.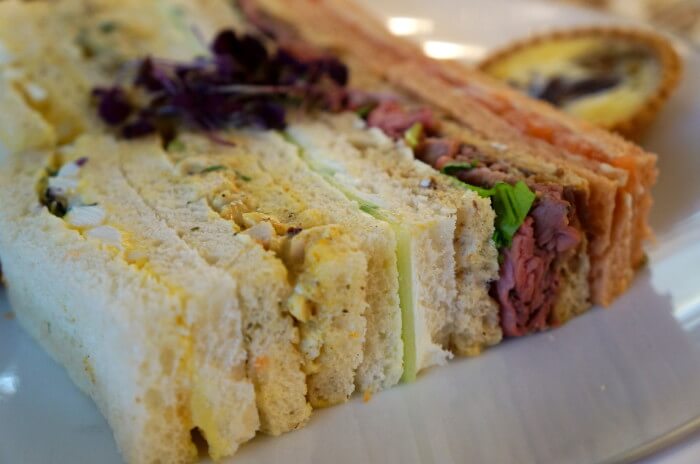 My favourite part of the Afternoon Tea would have to be the scones (smothered in clotted cream and strawberry jam) and the egg mayonnaise sandwiches (which were soft and delicious and had the crusts cut off). Freshly baked scones are such an unbelievable treat, and they were lovely and crispy on the outside, and soft and fluffy on the inside.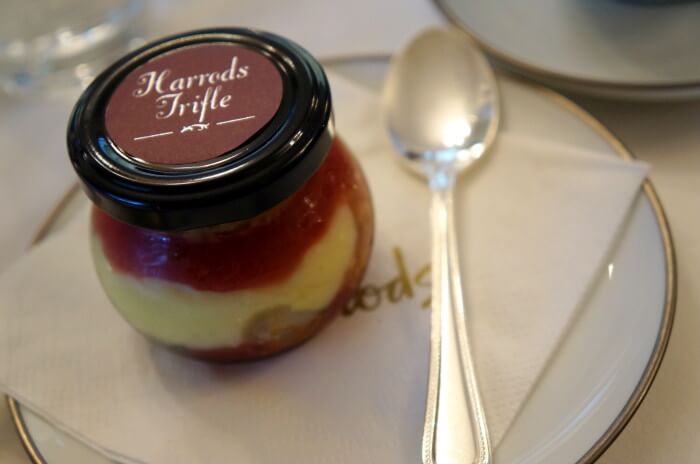 Are you a cream or jam first kinda person?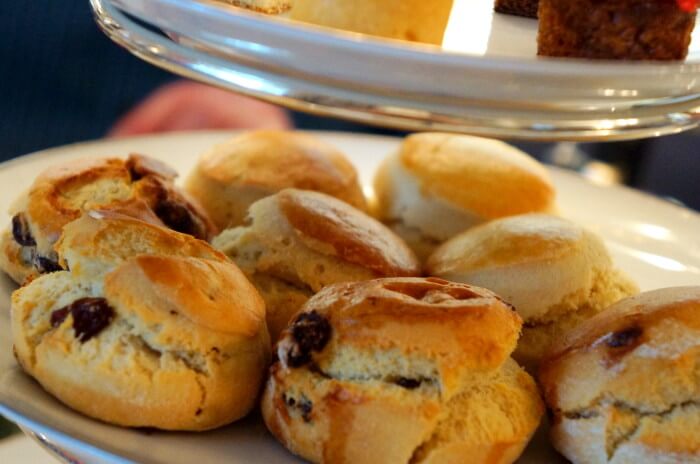 Would I recommend the experience? Definitely.
It's one of the nicest Afternoon Teas I have ever had, and I felt spoilt rotten by the staff, who couldn't have been more attentive and lovely if they'd tried. Everyone had a smile on their face, and our waiter, Lee, was brilliant at making sure we always had what we needed.