2013 has been a pretty good year for me…. after months and months of planning and organising our big round the world trip – 2013 was the year we finally got to set off and do it. Because it was such an incredible year, I wanted to put some of our highlights down on paper (virtual paper!). So here are my favourite moments from 2013 (in no particular order I might add!).
Storm chasing in Hong Kong 
Whilst we were in Hong Kong, it never seemed to stop raining. One particular day though, as we boarded the Star Ferry, on our way back to our hotel – we could actually see the storm approaching. You can see it in the photo below, and from the moment that photo was taken, it took about 5 minutes to reach us on the boat. I can honestly say, I've never seen or felt rain like it. It literally came out of nowhere, and then just pelted down for about an hour at full force. Pad and I were in absolute awe of it, and although we attempted to shelter for awhile, in the end we just legged it into the rain and decided to risk it. Needless to say – we got absolutely drenched.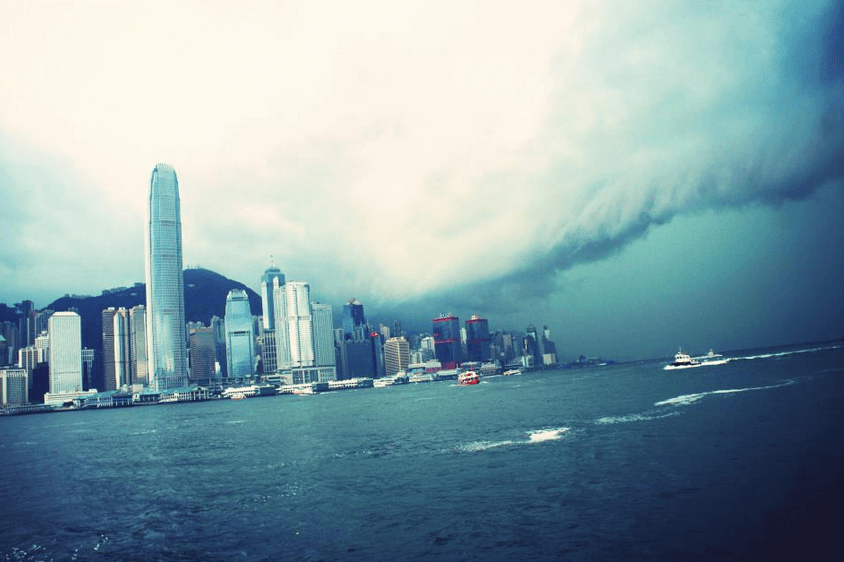 Waking up to this view in Hong Kong
We wanted to book ourselves a room with a view when we were in Hong Kong (because as far as views go – Hong Kong has a pretty incredible one on offer) so we opted for a suite at at The Langham Place Hotel in Mongkok. It was so stunning, and the room was everything we'd hoped for. The view from our window is what you can see in the photo below – and it was just perfect. Waking up (and going to sleep) with that outlook was just incredible.
For more photos of gorgeous Hong Kong, click here.
Winning (and gambling) at The Marina Bay Sands in Singapore
Now, Pad will claim it was his idea to walk away from the table when we did (whatever…) but whoever's idea it was – we went away from the Casino $200 up. If only we'd been as lucky in Las Vegas a few months later….! It was literally like we couldn't stop winning… I think the old man next us was our lucky mascot. Definitely an amazing way to end our time in Singapore.
To read more about my time in Singapore, click here.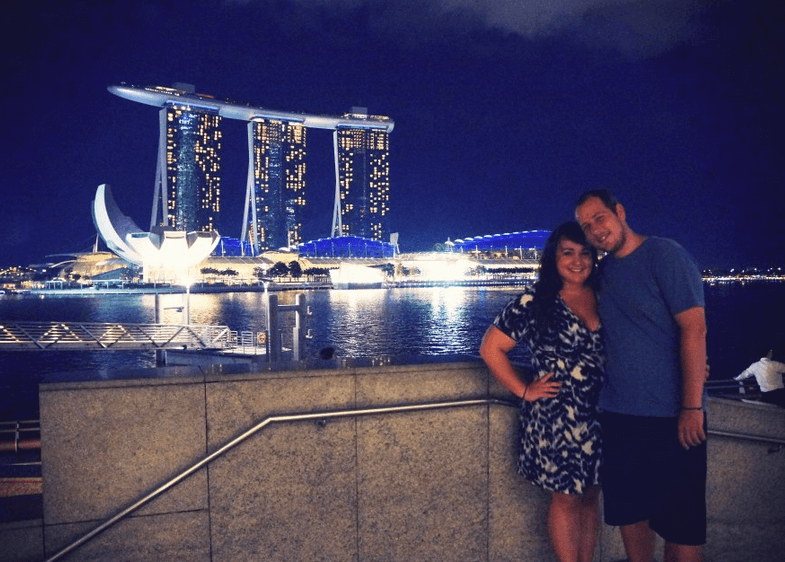 Having a private luxury pod on the Singapore Flyer
We were gifted some complimentary tickets for The Singapore Flyer by their PR team, and expected to rock up and experience the regular tourist attraction. What actually happened, was much different! We were chauffeured through to a private entrance, got to skip the entire queue, and walked straight into our very own luxury pod at sunset. It was pretty amazing – and even more so because it was a complete surprise. It was also the first time we'd both tried the famous Singapore Sling – and The Flyer was the perfect place to try it for the first time!
For my full review of The Singapore Flyer, click here.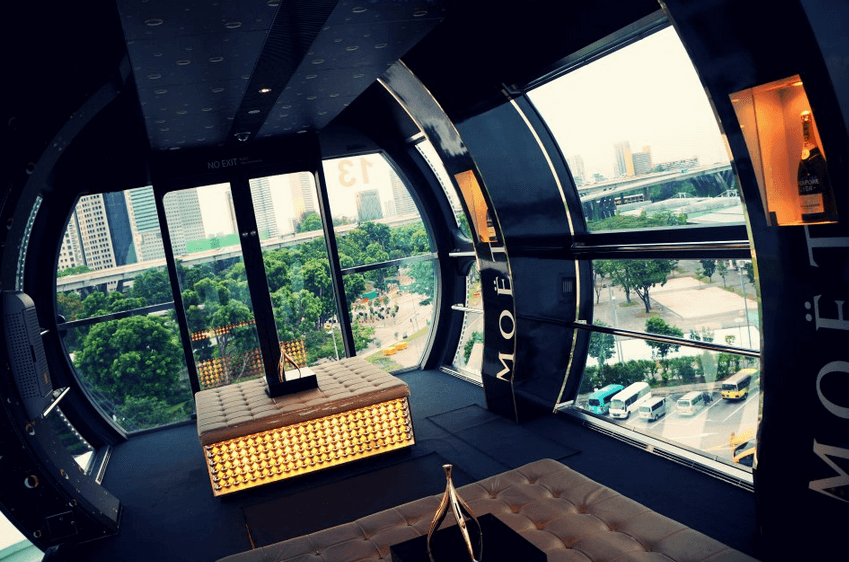 Our 5 days on The Gold Coast
The Gold Coast was one of our last stops in Australia, and after a month of hostels and budgeting – we splashed out a little when we finally arrived at Surfers Paradise. Our hotel room overlooks the beautiful rivers, and every night the sunset was just beyond beautiful. We had planned to cram our 5 days there full of theme parks and activities – but when we arrived we realised all we wanted to do was relax and take it easy. We drank a lot of cider on that balcony, we (attempted) our very own Oz BBQ (and failed miserably!), we ate a lot of frozen yoghurt, had the best caesar salad ever, and we spent hours laying on the beach doing absolutely nothing.
For more information about The Gold Coast, click here.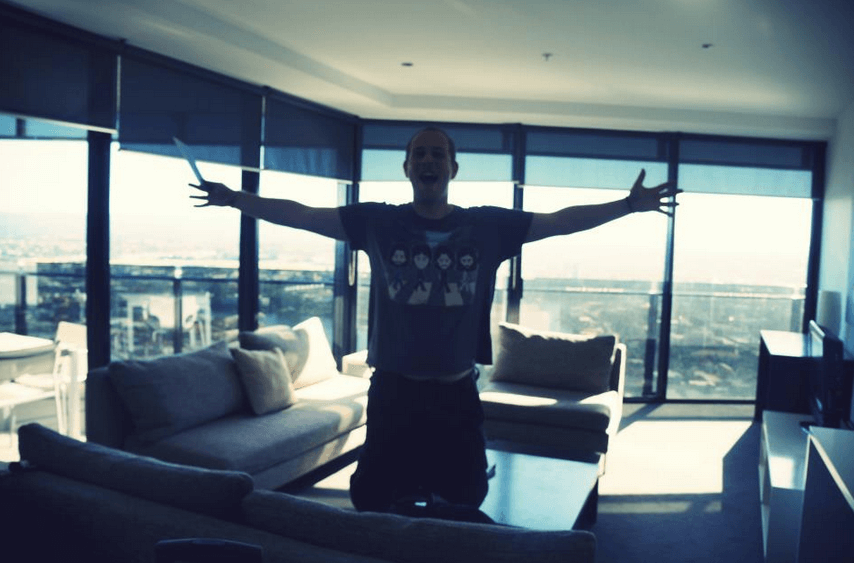 Learning to surf in Noosa
We hadn't really prioritised surfing to be honest, but a girl we met at our hostel recommended it to us – so we decided (on a whim) to give it a try. I think we were both a bit apprehensive looking back – but within 20 minutes in the water we were both in love! Learning to surf was so much fun, and both us have agreed several times since, that it absolutely was one of the best things we ever decided to do. I know that Pad is beyond excited to give it another go as soon as we're anywhere near another beach – so next year should be much the same! If you are looking to learn surfing, Noosa is such a beautiful spot to do it and quite an appealing spot too. The waters are warm, not to deep and it is home to Australia's best surf school!
Click here for info about our first surfing lesson in Noosa.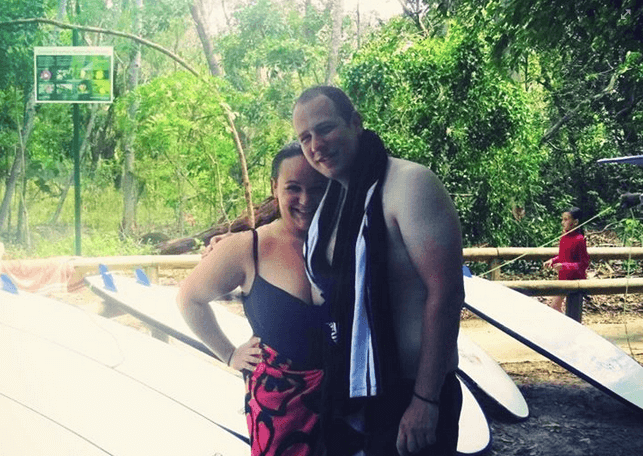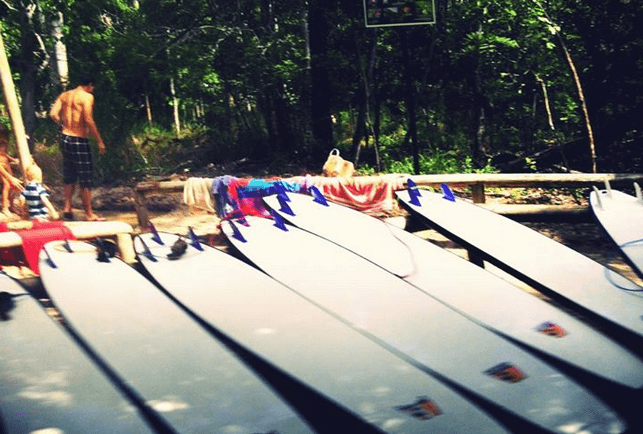 Seeing The Great Barrier Reef
I can't really put this into words. But if you've been – you'll know. I've never before felt so small, so insignificant and yet so free and inspired. I know that sounds super lame-ass. But you really can't understand until you've been and seen this whole other world under the waves. We didn't even get the best weather for it (I suffered pretty horrendous seasickness whilst on our boat) and yet, you still can't avoid the beauty and the peacefulness that lies underneath the waves.
It was bizarre actually. Above the water there was wind, gales and you were being thrown about, but then once you were underneath the sea it was completely different. Pad and I spent our time gliding around under the water holding hands (otherwise we would've drifted apart!) trying to point out all the amazing creatures. At one point this turtle swam up literally a few centimetres in front of us, and I got to reach out and touch it's shell. That right there, was just amazing.
To read the full blog post about our day on the reef, click here.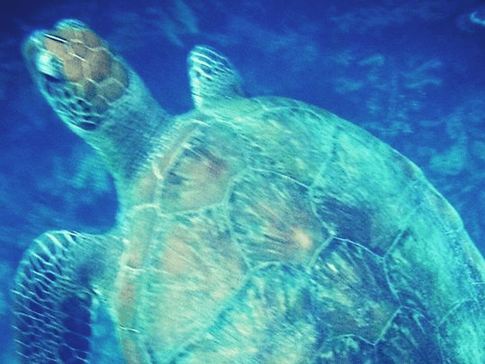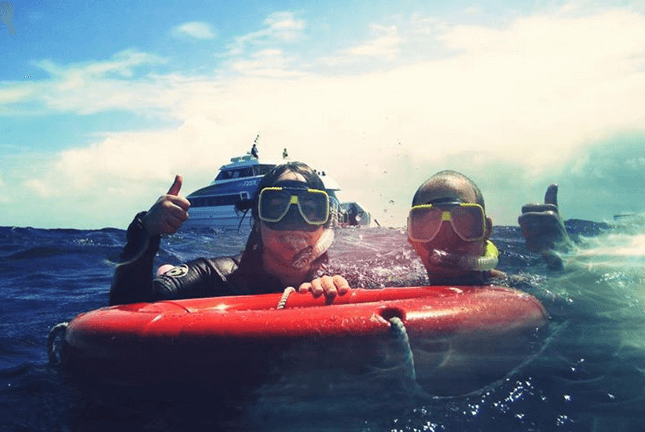 Introducing these guys to Fergburger (and other things!)
During our last few weeks in Queenstown, two of my very best friends came and stopped with us in New Zealand for a few weeks. Sharing our new home with them was so much fun – and it was great to share all these amazing things we'd done and found with them too. This included Fergburger, Flame (Ben's face when he saw the size of the mixed grill was hilarious!), Fat Badgers (which we had like 3 times?!), and the gorgeous Kelvin Heights (where we finally jumped in the lake).
More about all that, by clicking here!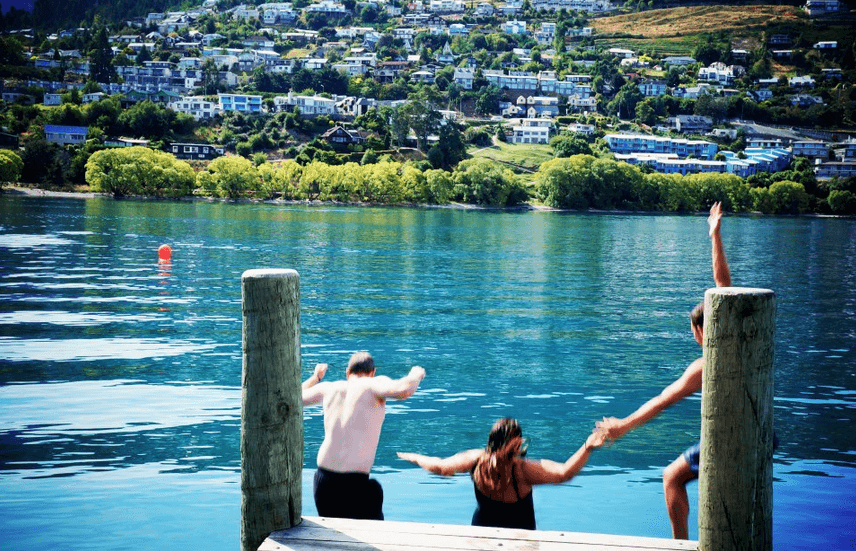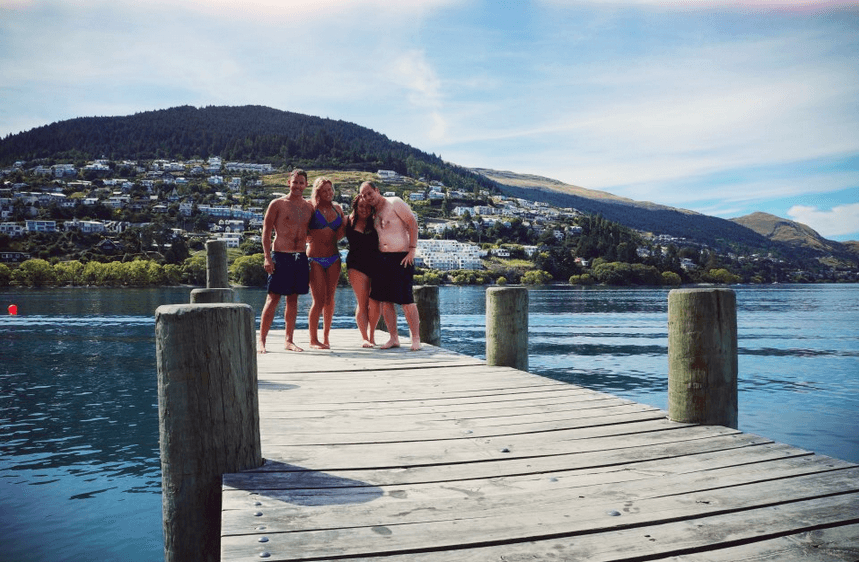 Onsen Hot Pools in Queenstown
This was such a treat, and really was a once in a lifetime experience. Onsen Hot Pools are located a little way out of Queenstown (about a 10 minute drive through the mountains) but worth the trip – especially for those who want to do some relaxing after all the adrenaline activities. We went for the evening package, and has champagne, candles and even a little picnic hamper. Perfection!
For a full review (and lot's more photos!) of The Onsen Hot Pools, click here. 
NZ Road trip with Moogan
For Paddy's birthday, we rented a car and explored our little bit of the South Island. We crammed so much in, and it was so much fun just zipping around, playing music a bit too loud and finding all those hidden places we'd never have found without a car. The reason he looks so happy below – is because of how modern and swish the car was. The previous time we had rented a car in NZ, we'd been stuck with a car that was about 30 years old… and still had a cassette player. One of my most hilarious memories from this road trip was Puzzling World in Wanaka. They have this one room on there where you feel like you're walking up but actually you're walking down. It's weird – and difficult to explain. Anyway, the aim of this room is to (quite simply) get to the other side without falling over. We'd both fallen in to the final wall and were already laughing, when this old Chinese man turned the corner and mouthed "help me!" with all seriousness. All three of us burst out laughing and we were still laughing out it an hour later.
For more on our road tripping stuff, click here.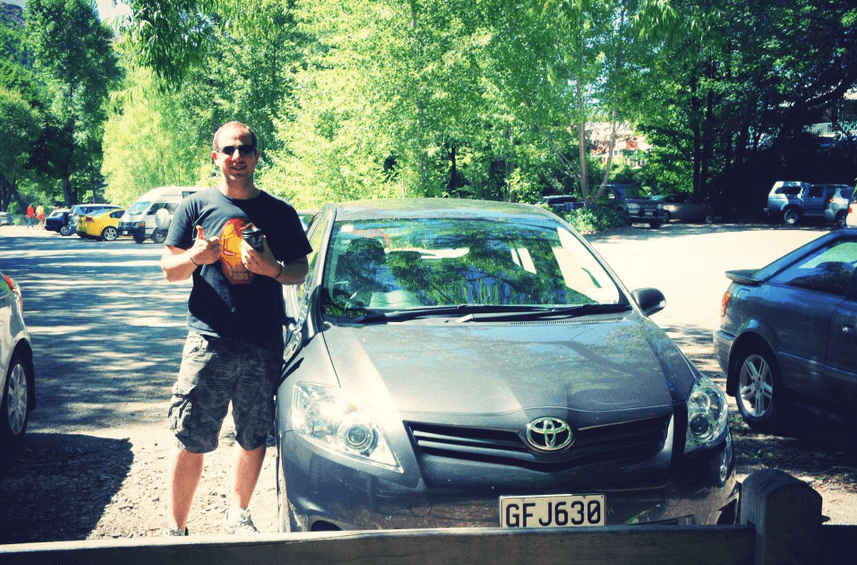 New Years Eve in Sydney
I can't think of a better way we could've started 2013. The night was perfect, the view was breathtaking and the experience was just priceless. I'll never forget it – and for anyone even contemplating spending NYE in Sydney, I would just say DO IT. We spent the night at Sydney Harbourlights and it was the best money we've ever spent.
For more info about an incredible night, click here.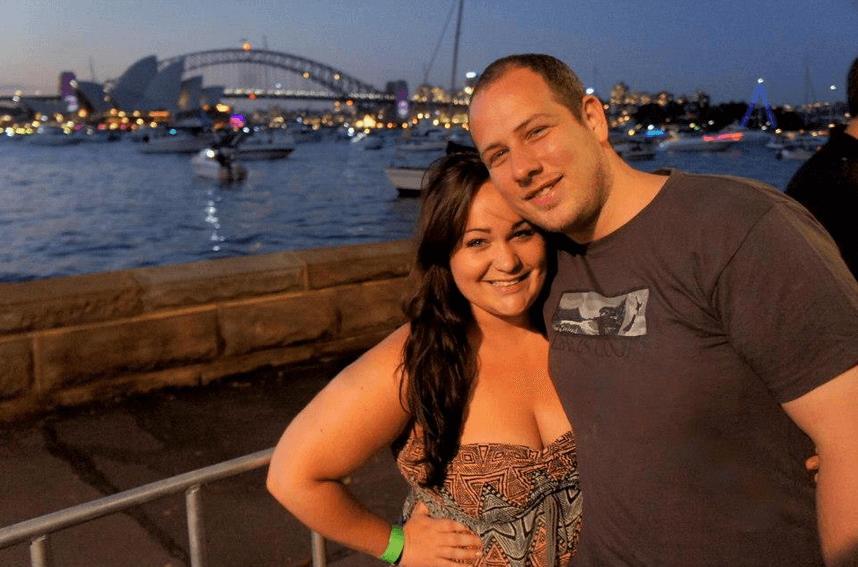 Finally seeing the Bellagio Fountains in Las Vegas
I loved Las vegas, and my favourite part was (of course) the Bellagio Fountains. Not much to say other than WOW. Yes they're touristy, but they're so magical too! I'd been so excited to see them, and they didn't disappoint at all. We're hoping to go back to Las vegas in 2014 – so I hopefully won't have to wait too long to see them again!
Click here to read more about Las Vegas.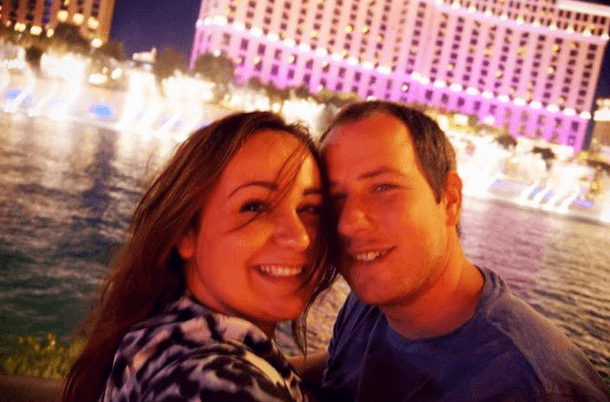 The Grand Canyon
Another thing I'd been dying to see, needless to say, the Grand Canyon didn't disappoint either. I mean…. how can it?! We went with Pink Jeep Tours and everything about the day was just fantastic. I wouldn't have changed a thing about it.
For more info on our day in The Grand Canyon, click here.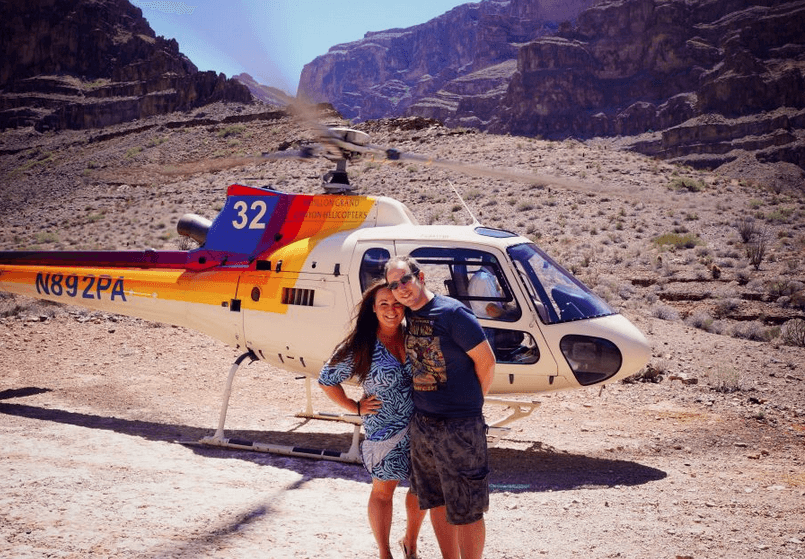 Putting our padlock on Padlock Bridge
Paris was our last destination of the year, and putting our Padlock on the bridge seemed really fitting. We've been through a lot this year, and that seemed like such a perfect way to round things off.
Click here to see more photos from Padlock Bridge in Paris.
Moving into our new London home 
After months of being on the road earlier in the year, we were both so excited to be settled into a home again. We've decided to settle in Balham (South West London) and our home is so gorgeous. Moving day has definitely been a highlight, and every day since too.