Ever wondered what is it like to attend a movie premiere? Well I found out for myself!
I've never thought of myself as a lucky person (far from it) – most of the time if someone in the room is going to trip up / fall over / break something / embarrass themselves – it'll most likely be me.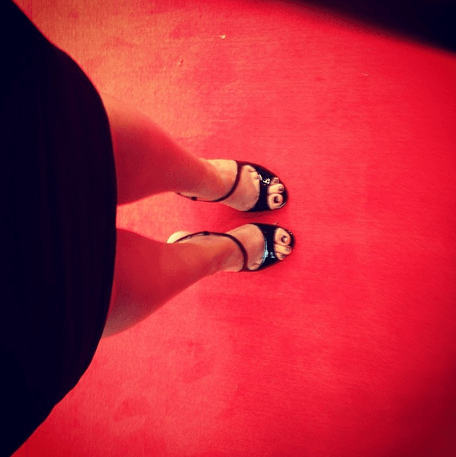 But anyway, last week I saw a competition on twitter, with the prize being 2 tickets to the Godzilla movie premiere in London. I live in London anyway (and I was super excited for Godzilla) so I decided to enter. With absolutely no thought about winning, I entered it and forgot all about it minutes later. Which is easy to do when you've never won anything, like, ever.
5 hours (or so) later I was jumping up and down in my seat (like Tom Cruise on Oprah) because I'd had a tweet telling me I'd won the tickets. This was a big deal! The first time I'd ever won anything! ALSO IT MEANT I WAS GOING TO A PREMIERE!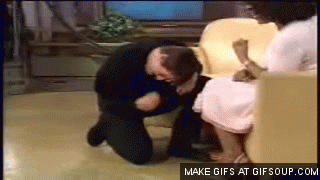 So I went and it was great. Godzilla, incase you were wondering about the actual movie, was pretty solid. Both myself and the boyfriend gave it a solid 7/10. Not bad.
The main excitement though was being able to get dressed up and walk the red carpet, and a chance for me to see Pad in a suit (which never happens, ever).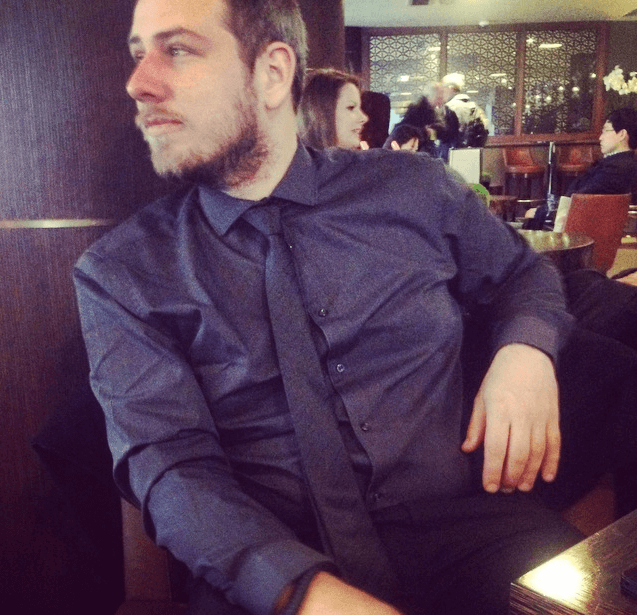 When did we arrive? 
Our ticket said anytime between 6pm and 6.45pm. So, as we'd arrived a bit early, we sat in a bar in Leicester Square as we waited for the time to approach. We could see the red carpet warming up from our seats at the bar, so that was kind of exciting. When we saw loads of flashed going off, we figured some of the celebs had started to arrive, so we decided to head over and make our entrance too.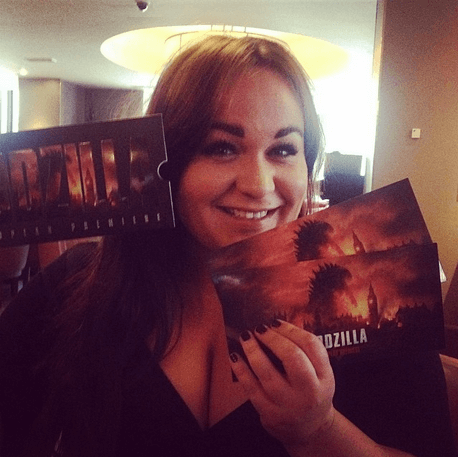 There were two entrances, one for car arrivals (pretty much all the a-listers were arriving that way) and one for guests who were on foot. This was us. We waited in a holding area of about 50 other people, whilst they let us enter the red carpet in groups. I'm guessing this was done to spread out the excitement, and to prevent too many people crowding on the carpet at one time.
What happens when you're on the red carpet?
In short? You get asked to keep walking!
It was incredible to walk along the red carpet past the movie stars and with all the crowds cheering, etc, but you had to walk slowly to really make the most of it because there were staff on the carpet actively trying to get you to speed up. Pad and I milked it for all it was worth (and being a blogger I consider myself pretty good at taking sneaky photos) – so we posed for a few photos ourselves, a few times, and took a few photos for other people in our little group too.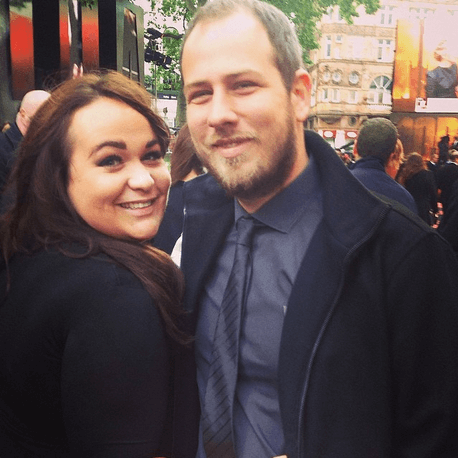 Here we are! I think we almost look like could fit in….?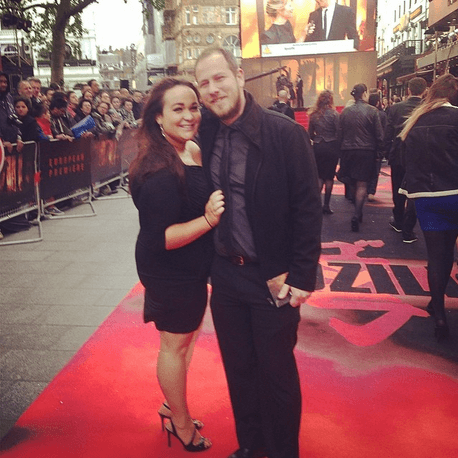 I even spotted the man himself, Brian Cranston getting interviewed – and managed to get a sneaky snap of that too.
Entering the cinema…
There are two entrances to the cinema, well it's one big entrance but two different sides. One side for the 'riffraff' (that was us) and one for the a-listers and stars of the movie. One entrance took you upstairs and one took your downstairs. The premiere cinema screen actually has two tiers in Leicester Square, so the celebs sit on the top tier, well out of reach of all the ordinary folk! The cinema is huge itself – with leopard print chairs (which I thought was a bit weird) but each to their own.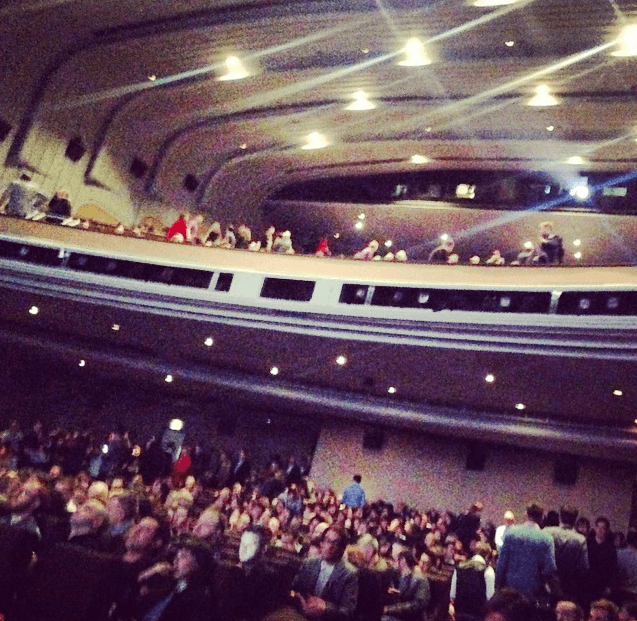 On everyone's seat was a bottle of water, and a box of little biscuit things. Oh and 3D glasses for the film. If you wanted other drinks and snacks there were these guys selling them old 'hollywood-style out of little boxes around their necks, and a drinks cart at the front of the cinema. We had been assigned seats (on our tickets) so we headed straight over and took our seats!
On the cinema screen at the front they were showing all the red carpet goings-on outside, so that was pretty cool. We got to watch all the interviews and stuff before the film started which gave it a lot of context, and gave us things to look out for in the movie.
The film itself! 
Before the film started, all the cast and directors (and other important people) came up on stage to say a few words. This was one of my favourite parts. I mean, when else can you watch a movie and have the director personally introduce it beforehand? As we were really close to the front too – the cast were literally a few feet away, so it felt really special.
Excuse the terrible quality of some of these photos – we were asked not to bring full sized cameras into the cinema, so my camera phone had to suffice!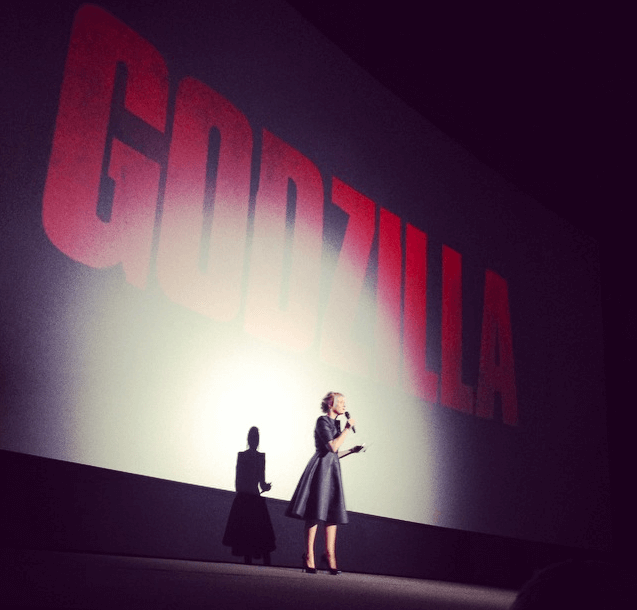 Godzilla was a great movie, not what I expected and definitely lived up to the hype that had surrounded it before entering. It was pretty scary in parts too (but I'm a bit of a wimp) so don't take my word for it.
One thing I really loved was the 'whooping' and cheering from the crowd at key moments of the film. I wish I could do this at every movie I ever watch from now on.
There was a real community feel to the screening and everyone was really excited and involved. When two of the main characters kissed at the end there was whistling and cheering – and when the film ended and the big climax scene at the end happened (don't worry – no spoilers) the room erupted with clapping and cheers. It was such a change to normal – and a real experience.
Sometimes I think we're a little to reserved as British, but it felt super American in the premiere, like the director was the boss and we were all his own personal cheerleading squad.
Pad and I got an Uber taxi home afterwards (to stick to the celebrity-feel of the evening).
Then we got McDonalds and sat on the sofa watching Inbetweeners. Which made us feel back to normal again.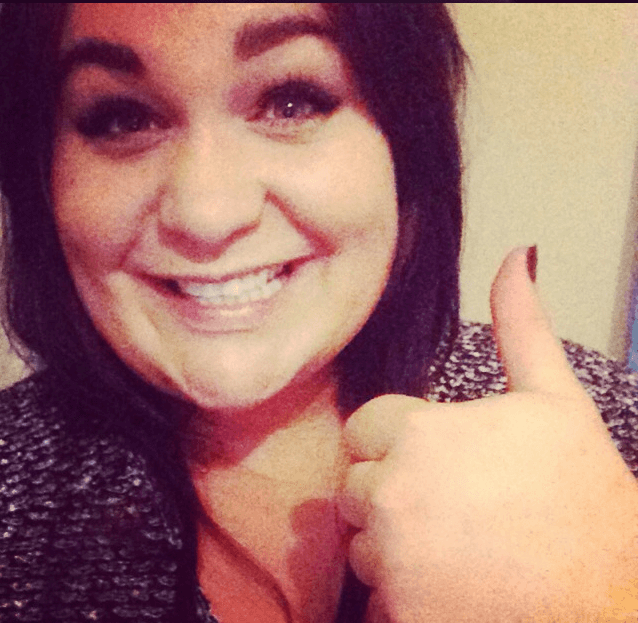 Did you like the photos featured in this blog post? Don't forget to follow me on Instagram @TheWorldAndThenSome where I post lots more gorgeous photos from my travels!