When we managed to squeeze a week in Las Vegas into our US leg of the trip – I knew for sure I wanted to go and explore The Grand Canyon. It's been one of those things that I've always wanted to see, so I knew (even despite the probable hangover I would have) the early morning and long drive out there from Vegas would be totally worth it. And it totally was.
It's hard to do places like this justice with words (which is why I take so many photos….) but I'll give it my best shot.
The drive out to the canyon is long and we left our hotel at about 6am (!!), but compared to some of the drives we did in Australia, it seemed pretty tame. Plus we did our canyon tour with Pink Jeeps, which meant we had majorly comfortable seating too. I remember this one coach we got whilst in NZ, from Queenstown to Christchurch that lasted about 12 hours, and I'm not even kidding the bus was so shaky and horrible I had to buy sea-sickness tablets from a garage along the way. So in comparison, our pink jeep ride seemed preety luxurious  It even had a TV…. not that we watched it – we were too busy staring out of the window!
The canyon itself is everything you imagine it to be. It's huge, hot and absolutely indescribable. It was bizarre looking out into the horizon and knowing that this enormous hole in the ground carries on for miles and miles beyond what you can even see. And it's not just that – it's the scale of the canyon too – the sheer drops and the cliff faces. I know it sounds silly – but I was expecting there to be fences and tape around the edges so clumsy people (like me) don't fall off.
But there wasn't.
Seriously, there is no protection from falling. Which made it dangerous and kind of cool. I did stay way clear of the edge at all times though – because when you are as naturally accident prone as me (I've broken both my arms in the past) you just know that if something is going to go wrong, it's you who will be in the centre of it all. I could even see Pad keeping a beady eye on me whenever I stumbled over around the cliff edges – he knows me too well apparently.
Our day tour included a helicopter flight down to the bottom of the canyon, and a rover boat ride too which was such a nice break. The helicopter was amazing – and we were lucky enough to be in an odd-numbered group, so scored the entire helicopter to ourselves. Now, I've been in a helicopter before (when I NYC, 3 years ago with Pad) and that time I think I was so overwhelmed by the Manhattan skyline that I kind of forgot I was even in a helicopter and hovering way above the ground.
This time, we used the helicopter to descend into the canyon, and (oh my gosh) were we close to those canyon walls. It was definitely beautiful to see the canyon emerge all around you as you glide into it from above – but all I could think was:
"oh please oh please let us land safely and not crash into the canyon wall" 
Pad being the adrenaline junky he is was loving every second though, his little face was lit up like a child at christmas time. He had the advantage of being sat in the front with the pilot too – so I think it was even more thrilling up front, because of the big glass window, you could literally see right down to the canyon floor. Luckily, I had a smaller window that only faced out, rather than out and down.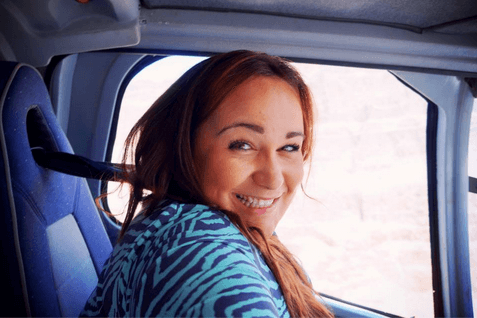 This is my "I'm so scared, I might wee myself" face.
This is Pad, sitting on the very edge. Look how un-clumsy he is. Not falling or anything.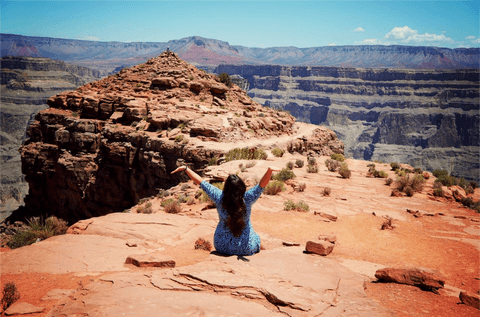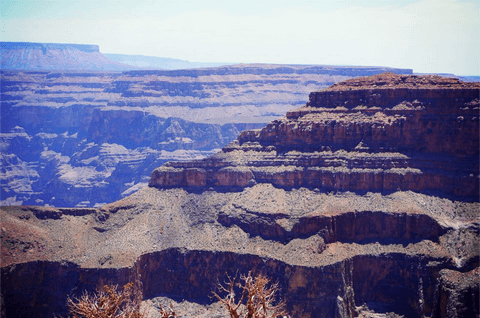 One of the most truly beautiful things to watch was actually the cloud shadows, and how they roll across the canyon floor. I tried to capture it in a few of the photos above, but to be honest, it needed a video clip to really convey just how stunning it is. It's like watching some amazing time-lapse piece, except it's not – and it's right there infront of you. The complete darkness of the shadows against the bright orange of the canyon rock is just magical.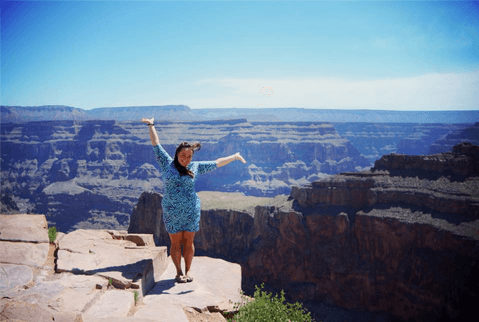 Notice how, even in this 'daring' photo I still keep at least 60cm from the edge. Actually during this photo this big gust of wind blew (which is why my hair looks a bit crazy) and I did have a split second where I thought "I really hope I'm stood far enough away. Otherwise this is it".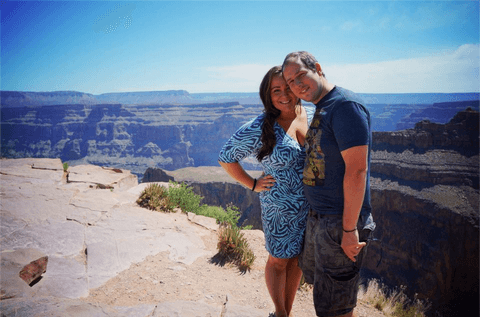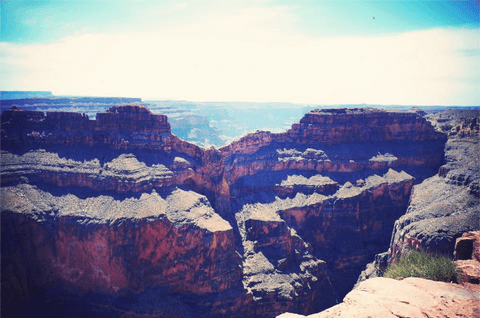 Would I go again? Of course. For me it lived up to all the hype and all the expectations I had. We didn't bother going on the Sky Walk thing they have there now, because it's like $30 and you're not even allowed to take your camera on with you…. (what's with that?) but you don't need to stand on some fancy platform to appreciate how incredible a landscape like this is.
Just go and stand anywhere – you can't exactly miss the view.