Last week I was lucky enough to head to Copenhagen for a few days on a business trip… Which was SO EXCITING!! Especially as it was to Copenhagen – somewhere I've never been before.
I'll be honest – Copenhagen has never really been on my radar, but before jetting off I did a little research and couldn't wait to visit. The company I work for (I do social media and PR for Tiger Stores) are a Danish Design store so I'm always hearing about the Danish culture, and was pretty excited to experience for myself.
Here are my photos!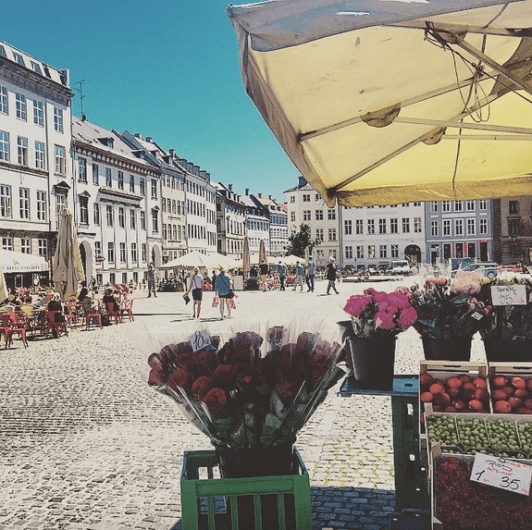 One thing I adored about Copenhagen was the quiet, the calm and the cleanliness of it. There aren't many cars in the city, and almost everyone rides bikes – so the city is very quiet and peaceful compared to London. In the evening it was noticeable how calm the streets were, there was a lack of engines, transport and sirens… it was kinda lovely.
There were so many bikes in the city, I spent a lot of time taking photos of them. There's definitely something super 'instagrammable' about bikes in the sunshine. It's kind of fun imagining what kind of person owns the bike…
Like this one below, is totally some rich hippy artist. But he has an adventurous side (look at the wheels). And he's maybe got a new baby or something (because the plants are a bit overgrown – so he hasn't had chance to cycle recently).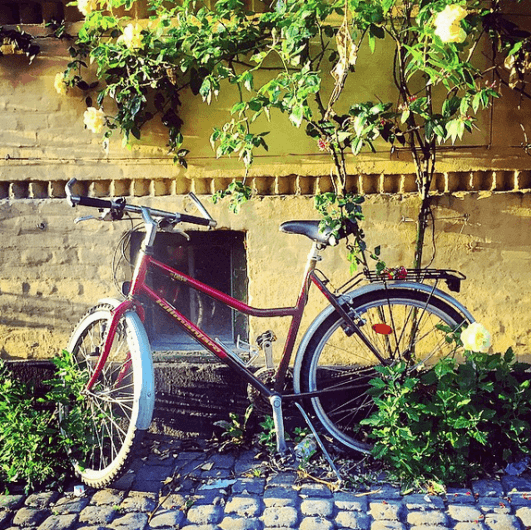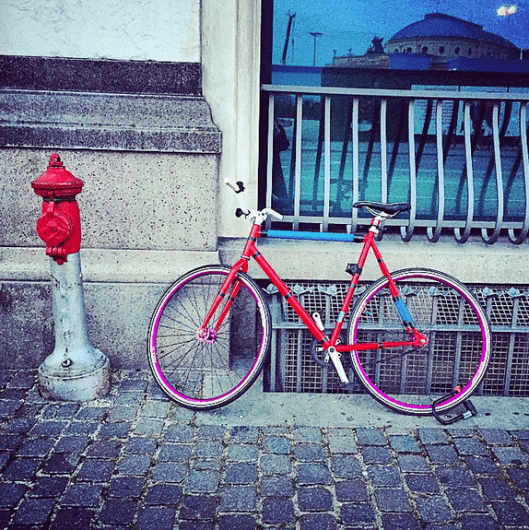 The streets and buildings reminded me a little of Amsterdam, which makes sense as apparently a lot of buildings in Copenhagen were built by the Dutch. Some of the streets were simply gorgeous – especially the street with coloured fronts along the waterside.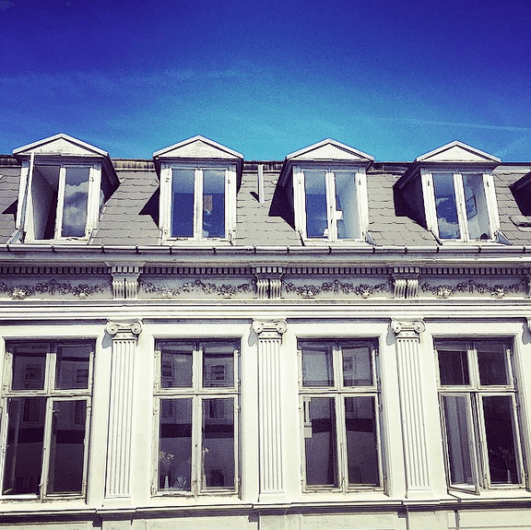 Look at my shoes. I <3 them.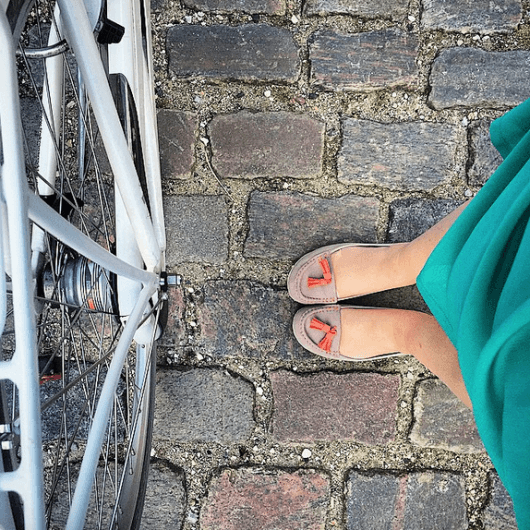 One of the evenings, my colleagues took me out for dinner at an area of the city called Christiania. Christiania is a part of the city which (for want of a better word) is 'free' – it doesn't abide to the normal laws in the city (for example, people sell and smoke weed freely in the area) and the people there are an independent community. It's like a huge park set around a beautiful lake with homes, cafes, restaurants and market stalls.
The history of the area is fascinating – and it's an amazing place to visit for the sheer experience of it. There are only a few photos below (as they ask you not to take images once inside the grounds).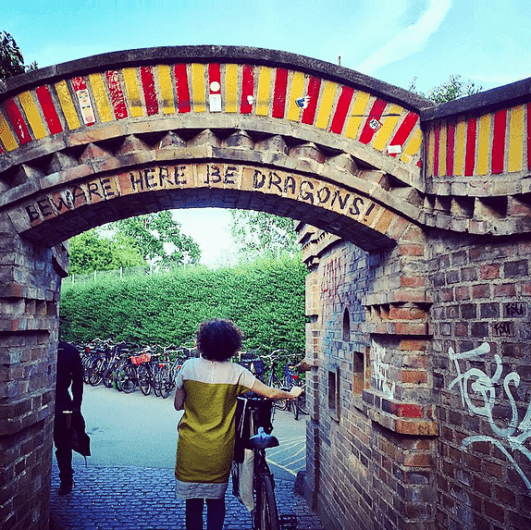 Next up, a few more random photos from the city and just strolling around…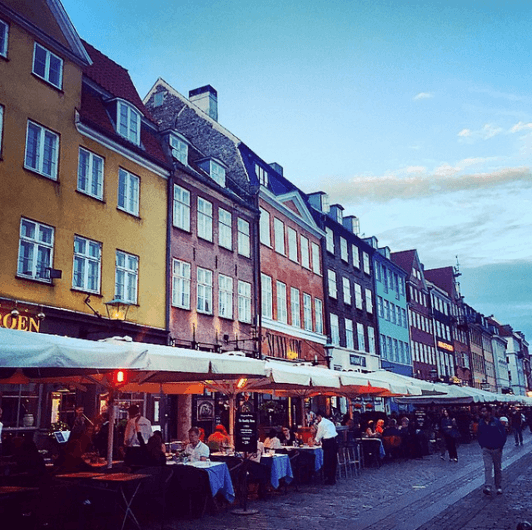 The city is seriously so gorgeous… These photos are just random shots from here there and everywhere whilst walking around the city – and it seems like everywhere you look there is something else to take a photo of.
I thought the multi-coloured houses would just be located on one street (kind of like Notting Hill) but they weren't – they pop up everywhere, which is so nice. You'll be walking along this normal street one second, and the next minute you've turned onto an amazing rainbow.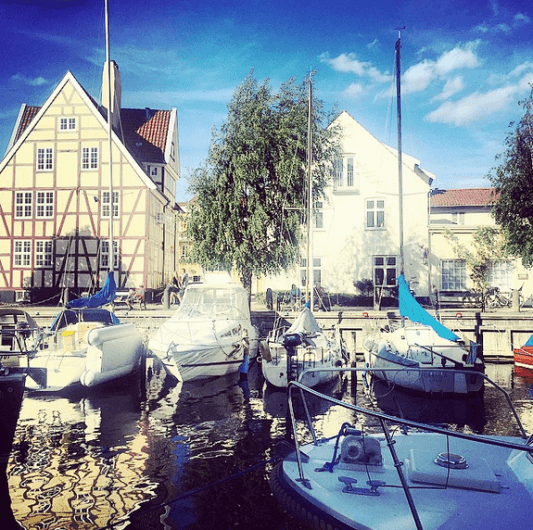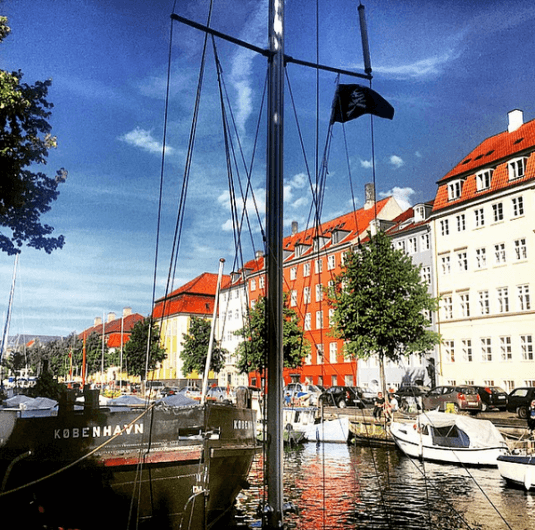 Oh and CAN WE JUST TALK ABOUT THE PASTRY!?
Holy smokes.
It was good.
My friend Samuel (who was travelling with me) had warned me beforehand how good the pastry was, and I was somewhat doubtful. I'm not a big pastry fan here in the UK – and if I was going to convert they'd have to be something special.
Well, it was. It was squishy, sweet, sticky, crispy, cinnamonny and custardy all in one mouthful. I am literally drooling on my keyboard as I write this.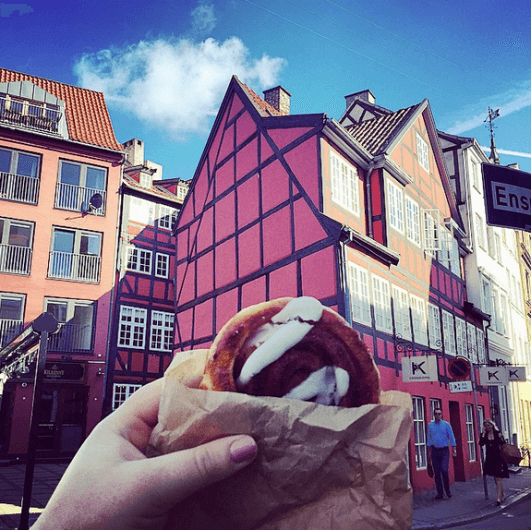 And then it was time for home.
I tried to sneak a pastry in my carry-on for Pad, but it got a bit gross so I abandoned it on the plane. Until next time, Copenhagen.